Video poker is a form of slot machine. Instead of reels and symbols, it uses cards. Video poker uses one deck of cards. It is reshuffles after every hand.
Differences Between Video Poker and Slots
The main difference between video poker and slots is that video poker requires skill. In most slots, players push a button and the machine determines the win or loss with the player having no more interaction with the game.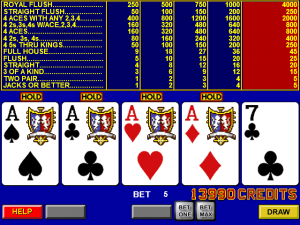 In video poker, the machine deals the players five cards. The player chooses which cards to keep and which to discard. The video poker machine fills the discard spots with new cards. Discards cannot reappear in the hand. In slots, there is typically no draw after the reels are filled. In some games, there is a draw in slots. However, this typically does not change the outcome or payout.
How to Play Video Poker at an Online Casino
At an online casino, you will need to fund your account before playing video poker for money. This may be done through a variety of methods that include bitcoin, credit cards, debit cards, bank transfers and ewallets. Once you have chips in your account, click the video poker tab in the software. This will show the library of games spread at the online casino. You can do this before depositing to ensure that your choice of online casino offers your preferred games.
Once you are at the video poker game screen, choose your game and denomination. Do this by pointing your mouse to the coins you would like to use and the game title. You may also use a touch screen if your device has one.
Note that when choosing a denomination, you should wager five coins per line. Multiply the denomination by five and the number of lines played to determine the exact wager. Ensure that this amount is within your bankroll.
Now that you have the game and denomination set, it is time to play. Choose the number of coins to wager. We recommend betting the maximum by clicking "max bet" on the machine and cards will be dealt immediately. This makes the royal flush pay 800 to 1, as opposed to 250 to 1. This adds more than one percent to the game's return. If you choose to bet fewer than five coins, click the "bet one" button the number of times for the desired wager. Once that is displayed, click the "deal" button and you will receive cards.
How to Play Video Poker at a Live Casino
The first step in playing video poker is finding the right machine. This depends on how much you are willing to bet and the odds of each game.
Video poker machines are usually banked depending on the denomination. You will usually find lower limit games grouped together, and higher limit ones elsewhere on the casino floor. Some video poker machines offer multiple denominations. Note that the pay tables may change between them.
Many video poker machines have multiple games on them. This includes single line, three-play, five-play, Ultimate X, Dream Card and Spin Poker. This makes it simple to move from one game to another without having to change machines.
Once you have found your favorite machine, you will need to insert cash. Video poker machines do not take credit or debit cards. When the machine has credits, click "max bet" to wager five coins per line. Cards will immediately be dealt. To wager fewer, click "bet one" until the correct amount is shown. Click "Deal" once you are ready.
Video Poker Play After Cards Are Dealt
Video poker play is identical between live and online casinos. You will get dealt five cards. You will choose which ones you would like to keep in the draw by pushing the screen on top of the cards or the buttons below the screen. Make sure these cards are marked on the screen with "held" before clicking the "draw" button. This will replace the discards with fresh ones.
The hand is then over. The machine will determine the payout based on the final hand. There is no dealer hand to play. Your win is based solely on your hand's strength.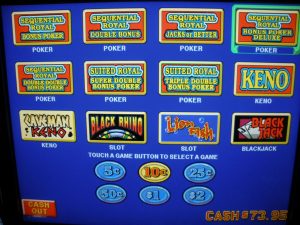 Multi-hand games play slightly different. In these games, which include Triple Play, Five Play and Ultimate X, the player will choose cards that will stay with all hands. The machine will then fill the discards in each line with new cards. In a five-play game, there will be five hands. The deck is reshuffled before filling each hand. This means that some new cards may repeat. However, discards never return.
Video Poker Games Requiring More Than Five Coins
Some video poker games require more than five coins for a maximum bet. This triggers a bonus feature. Ultimate X, Dream Card and Split Card are among the games that require a total of ten coins to trigger the payout. Wheel Poker and Six Card Poker are games that require one additional coin per line. These coins do not increase any other payout. It only enables the bonus feature.
Increasing Your Return at Video Poker
There are several steps a player can take to increase the return of a video poker game. Game selection is the most important. Pay tables may change from one machine to another. It is important to find the best one for your game and denomination.
Most video poker games will show the pay table on the play screen. Check these to determine the quality of the game. Full pay Double and Double Double Bonus will pay 10 on a full house. Jacks or Better should pay 9 on a full house. Bonus Poker should pay 8. Full pay Deuces Wild games should pay 5 on four of a kind. Joker Poker should pay 20 on four of a kind and pay on kings or better, not aces or two pair.
These machines are difficult to find outside Las Vegas. Lowering the payout described by one will generally drop the return by one percent. This still makes the games playable. You may also find that higher denomination games have better pay tables. In some casinos, the opposite is true.
Another way to increase your video poker return is to take advantage of perks. At an online casino, your play is automatically tracked by the software. You will clear bonuses and earn slot points without having to do anything on your end. If you play enough, you will receive special offers like deposit bonuses, free slot play and point multipliers. Slot points are typically converted into cash in the software.
A live casino requires work on the player's side to get perks. You will need to go to the players club with a valid ID. The casino will give you a plastic card that goes into the slot on a video poker machine. This tracks your play and awards slot points based on your action. Big players will receive mailers for free slot play, hotels and meals. The most loyal customers receive a host at the live casino.
Video Poker History
Video poker dates to the early 20th Century. Charles Fey invented a slot machine that used cards in 1898. In 1901, a hold feature was added to the reels. That started the era of video poker as we know it today.
The Sittman and Pitt Company started manufacturing these machines later that decade. It was a popular variant of slot machines that game players the more control over their gambling game.
It took until 1970 for the current form of video poker to hit the market. The game, manufactured by Dale Electronics, was called "Poker-Matic." Bally's fine-tuned this game for mass markets like Las Vegas later in the 1970's.
Early video poker machines operated on coins. These games did not have bill acceptors. These were added to games in the 1990's. By the 2000's, all video poker machines manufactured has ticket-in/ticket-out features. This allows a player to receive a ticket instead of a pile of coins when wanting to cash out of a game. This ticket may be brought to the cashier or used in a different video poker or slot machine.
There are still hundreds of coin video poker machines in action in Las Vegas. Most are located downtown and in North Las Vegas.
Click Here for Our TOP 2023 USA Online Slots Site!