Split Card is a video poker variant that is spread at a few Las Vegas casinos. Like many new video poker game these days, the bet must be doubled to participate in the bonus split card feature.
The split card is a card that comes up about once for every ten dealt hands. It is two cards in one. It must either be two of the same card or two consecutive suited cards. For example, it could be two five of diamonds or the five and six of diamonds. It only counts as one card on the board but both cards may be used. If you are dealt the split card, you are essentially dealt six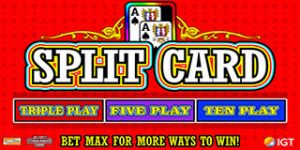 cards. If you keep it, it is held in all hands. If you discard it, a traditional single card replaces it.
If you do not keep the split card, no more split cards will appear. If you are playing a multi-hand version of the game, and you are not dealt the split card, you may receive multiple ones across hands on the draw. It will not appear more than once in a hand.
Split Card is available in several formats. The typical ones are three, five and ten hands. It is only spread at live casinos. It is not available at online casinos.
How to Find the Best Split Card Video Poker Machines
Split Card is only available in a handful of Las Vegas casinos. The pay tables are identical between most. The pay table is terrible on nickel and dimes. It gets above 99 percent for most quarter and higher denomination games. Texas Station offers the game with a three-cent denomination.
There is one exception to the pay tables. Emerald Island in downtown Henderson has penny, two-cent and nickel denominations. It has a wide variety of games with quality pay tables, like 8/5 Bonus Poker, 9/6 Double Double Bonus and 9/7 Triple Double Bonus.
How to Play Split Card
The first step in playing Split Card is to decide the number of hands that you would like to play. The machines typically have three, five and ten-play options. You can still choose to only play one line.
The next step is to choose the game. We recommend choosing quarter or higher Double Double Bonus at most casinos. At Emerald Island, Triple Double Bonus is the best game.
Once you have found the game you like, bet the max on the number of hands you prefer. Click the bet max button if you would like to bet the maximum number of hands available. You must bet 10 coins per line. Five coins go towards the hand payouts. The other five per hand trigger the split card feature. Betting five or fewer coins will turn the machine into a typical multi-hand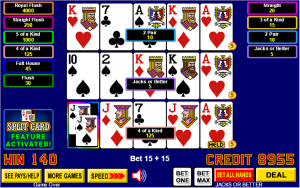 video poker machine.
Once the bet is placed, the machine will deal five cards. You may pick the ones that you would like to hold. You may get dealt a split card. This card is two cards in one. It is either two of the same exact card and suit or two connected suited cards. In most cases, you will want to find a way to hold this card.
Once you have decided which cards to hold, click the draw button. The cards chosen as discards will be replaced across all hands. The cards will be randomly redrawn on every line. The machine will then pay according to the pay table on the screen. To repeat the bet, click the deal button. If you are done playing, click the cashout button. A ticket will print that may be taken to the cage, redeemed for cash at a kiosk or used in a different slot or video poker machine.
Split Card Video Poker Strategy
There are many video poker games available on Split Card. If you are not dealt the split card, you play the hand as normal. If you are dealt the split card, find any way possible to hold it. This includes looking for flush and straight draws. The only time you should discard the split card is if you are dealt a pair of traditional cards and have no other draws.
How to Improve Your Return at Split Card
If you would like to receive special offers from the casino, make sure to get a players card. This is done by going to the players center. You will need a valid photo ID.
Once you have a players card, slide it into the slot in the video poker machine. It will track your play. You will earn slot points while in action. This is typically 0.1 to 0.3 percent. These may be redeemed for free slot play or meals. If you give enough action, you may receive mailers for free slot play, hotel rooms and meals.
Click Here for Our TOP 2023 USA Online Slots Site!