Quick Quads is a video poker variant. The game makes it easier to hit four of a kind. This is done by allowing the two kicker cards to add up to the number of the associated trips. Quick Quads turns this into a four of a kind.
For example, if a player is dealt three eights, and the other two cards are a two and a six, those cards equal eight. Quick Quads turns that hand into four of a kind. Only twos through tens qualify for the Quick Quads feature. For the purpose of kickers, an ace counts as one point.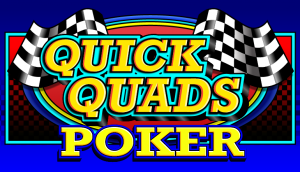 Like all video poker variants with a bonus feature, there is a fee to trigger it. It requires one extra coin per hand played. This makes it six coins per line. A 10-play game requires a 60-coin bet. The hand is paid on the first five coins. The other coin is dead and only applies to adding the Quick Quads bonus feature.
Quick Quads is only available at live casinos. You will not find it at any online casinos.
How to Play Quick Quads Video Poker
The first step in playing Quick Quads is choosing your denomination. The typical ones available are nickel, dime, quarter, half-dollar and dollar. The next step is to choose your preferred game. The usual titles are Jacks or Better, Bonus Poker, Double Bonus, Double Double Bonus and Triple Double Bonus.
Now that you have your game and denomination set, it is time to bet. You can play up to 10 hands. This number is toggled right on the screen. If you would like to bet all hands, click max bet and you will automatically receive cards. Click the ones that you would like to keep and click the draw button to replacements. The machine will pay the winning hands. Click deal to repeat the bet.
When you are done playing Quick Quads, click the cashout button. A ticket will print. You can take this ticket to the casino cage or redemption kiosk. You may also use it in other slot machines.
How to Find the Best Quick Quads Machine
Like any other video poker machine, your goal is to find the one with the best return. Ideally, you can find full pay games. These include Jacks or Better and Double Double Bonus paying nine per coin on a full house and six on a flush. For Double Bonus, you want nine on a full house and seven on a flush. For Bonus Poker, you will want eight on a full house and five on a flush.
You are more likely to find good Quick Quads pay tables at higher denominations. Most casinos that offer the game set the full pay versions at the quarter and higher denominations.
Quick Quads Strategy
There are a few strategy changes in Quick Quads when compared to the standard version of the game. Break a dealt full house with trip threes or fours if you can keep a kicker lower than it in any bonus game. For example, throw away one ace if dealt fours over aces. Drawing a three or the case four will make four of a kind.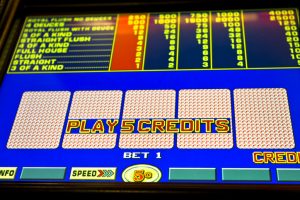 You will also want to hold kickers when drawing to a qualifying three of a kind. For example, if dealt three nines that are not in a full house, you will want to keep a card eight or lower with it. If dealt two, pick your favorite. You will also keep two kickers with a pair if the cards equal the pair. For example, if dealt a pair of nines, and you also have a five and a four, keep those four cards as drawing either of the last nines will create four of a kind.
How to Improve Your Return at Quick Quads
As Quick Quads is only available at live casinos, you will need to get a players card to increase your return. This allows the casino to track your play. This awards slot points that may be converted to free play or comps. High volume players can receive mailers with free slot play, hotel rooms and meals. The biggest players may receive a host.
To get a players card, go to the players center. You will need a valid photo ID. Slide this card into the slot. Make sure it reads your card by welcoming you to the machine. Some machines will display your name. If it does not read the card, the slot will likely blink red or give some other indication that the card was not accepted.
Click Here for Our TOP 2023 USA Online Slots Site!