Double Bonus Poker is one of the lower variance video poker variants in the bonus family. It is found in nearly all casinos in the United States. It is also spread at many online casinos.
The pay tables range from unplayable to over 100%. It is important to play the right games. The best Double Bonus pay tables tend to be in Las Vegas or other parts of Nevada.
Why You Should Play Double Bonus Poker
Double Bonus Poker provides a decent level of variance to be fun without it being too extreme.
If you can find a good pay table, it can be a great game to play. The strategy for the game is reasonably easy to learn, especially if you already know how to play Jacks or Better and Bonus Poker.
The return of full pay games is 100.17%. The second-best pay table still returns 99.11%. That one is widespread in many casino markets.
Why You Shouldn't Play Double Bonus Poker
Many casinos offer poor pay tables for Double Bonus Poker. These games can run under 98%. Some are under 96%. There is not enough variance with this game to overcome poor pay tables. You should probably look for a different game in the casino if you cannot find a pay table where a flush pays seven. If it pays six, and a straight pays four, the return gets down to 96.38%.
Double Bonus Poker Full Pay Table
The pay table below returns 100.17%. This assumes that you wager five coins and play the game perfectly. Multiply the payout by the number of coins wagered to determine the win amount.
Royal flush: 800 (250 if betting fewer than five coins)
Four aces: 160
Four twos, threes or fours: 80
All other quads: 50
Straight flush: 50
Full house: 10
Flush: 7
Straight: 5
Three of a kind: 3
Two pair: 1
Pair of jacks or better: 1
There is another playable version that returns 99.11% with perfect play and five coins. It pays nine on a full house. The other parts of the pay table are the same. Every drop in payout of a flush or full house takes the house edge up about another 1% per increment.
Where to Find Full Pay Double Bonus Poker
Most of the 10/7 Double Bonus Poker pay tables are in southern Nevada. You will find the game at all Station Casinos, Plaza, Main Street Station, California, El Cortez, Downtown Grand, Skyline Casino, Eldorado, Aquarius Casino in Laughlin and Eureka in Mesquite.
Double Bonus Poker Strategy
The following will help you play Double Bonus Poker correctly. Stay on four of a kind, straight flush and royal flush. Hold straights and flushes unless you are four to a royal flush. Otherwise, follow this list from top to bottom.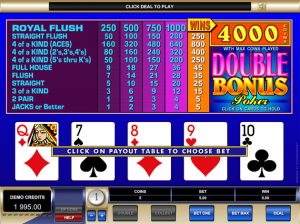 Four to a royal flush
Three aces
Four to a straight flush
Two pair
Pair of jacks or better
Four to a flush
Three to a royal flush
Four to an open-ended straight
Pair of twos through tens
Ace, king, queen and jack
Three to a straight flush with more high cards than gaps
Four to an inside straight with three cards jack or higher
Queen and jack suited
Three to a flush with two high cards
Two suited cards jack or higher
Four to an inside straight with two cards jack or higher
Three to a straight flush with as many gaps as cards jack and higher
Four to an inside straight with one high card
Jack, queen and king of different suits
Jack and ten suited
Queen and jack unsuited
Three to a flush with one card jack or higher
Queen and ten suited
All other three-card straight flush draws
King with queen or jack offsuit
Bare ace
King and ten suited
Bare jack, queen or king
Inside straight
Three suited cards
If none of the above applies, discard everything.
How to Increase Your Return at Double Bonus Poker
The only place to find 10/7 Double Bonus Poker is in live casinos in southern Nevada. Some of the machines issue points, though at a reduced rate from normal. The machine should disclose the reduced rate or lack of points if it applies. If your casino does not pay points, you may not want to use your card. It may hurt your mailers.
If you are playing 9/7 Double Bonus, you will definitely want to use a players card. This will get you slot points, multiplier days, and mailers with offers like free slot play, meals and hotel rooms. You will need a valid photo ID to get a players card.
Online casinos also have 9/7 Double Bonus. You do not need to do anything to get your play rated at an online casino. The software does it automatically.
Click Here for Our TOP 2023 USA Online Slots Site!