Tiki Torch is one of the older machines from Aristocrat that remains on casino floors today. Having been around for many years, it first made its way online in 2012, but you will generally find this game in live casinos on some of the oldest screens on the market. In fact, as time passes, Tiki Torch has become increasingly difficult to find at brick and mortar casinos across the United States.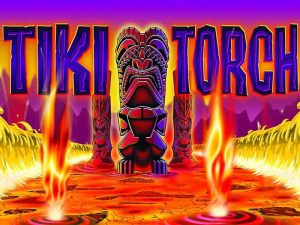 While Tiki Torch was once a mainstay, even in high limit slot rooms, today it can be almost impossible to find. Many casinos started to remove this game from their floors around 2015. If you would like to play this game live at a physical machine, you should make it a priority to do so in the near future, as it does not appear that Aristocrat will be re-releasing or modernizing this particular game.
Volatility of Tiki Torch Slots
The volatility of Tiki Torch tends to be in line with other similarly themed games from Aristocrat, like 50 Lions or 50 Dragons. In terms of bonus frequency, it tends to hit a bit less often than a game like Buffalo, which is also an Aristocrat title. While big line hits are possible in the regular game, the bonus rounds in Tiki Torch offer sizeable multipliers, meaning that you will need to land a few bonuses if you want a realistic chance of winning.
As a whole, Tiki Torch is certainly more on the volatile end of the spectrum. It is very possible to go hundreds of spins without a sizeable line hit nor a bonus round. This is not a game for slot players who are looking for frequent bonuses.
Variations of Tiki Torch Slots
The only real variation among Tiki Torch slots are found in the number of lines offered in the specific game that you are playing. Some instances of Tiki Torch are 9 line games with 10 credit wagers (making for a 90 credit total bet) whereas other versions are 20 line games with 10 credits for a total of 200 credit wagers.
While the symbol payout amounts vary, the tiered value of these symbols remains the same. These are the only ways to find Tiki Torch slot machines, and there is not a more modern or different version that varies from the core version of the game that was issued originally. There are no progressive versions of Tiki Torch, unless the machine you are playing on is otherwise linked to a progressive jackpot that is not within the game itself.
Symbols and Paytables in Tiki Torch
There are four primary sets of symbols during regular, non-bonus round play in Tiki Torch. The best symbol, which also serves as a wild, is the Tiki Torch itself. You can see a picture of the Tiki Torch symbol further down in the article.
Tiki Torch-The best symbol, which also serves as a wild, is the Tiki Torch itself. You can see a picture of the Tiki Torch symbol further down in the article.
Knife-The Knife may not look like a Knife, as you can see in the picture, but it is the best paying non-wild symbol in the game.
Hut/Canoe-The Hut and Canoe symbols both pay the same and equate to roughly half the payout of the Knife.
A/K/Q/J/T/9/8-These are the common symbols found in many games and they pay significantly less than the other symbols, with an Ace being the highest and an 8 being the lowest. Here is the full paytable on a 20 line game: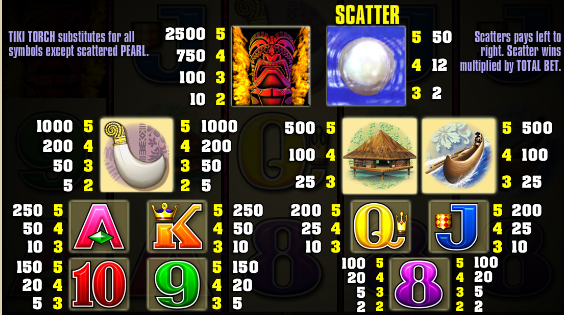 Tiki Torch Slot Bonuses
There is only one type of bonus that can be won in Tiki Torch. In order to enter the bonus round, you must line up consecutive Pearl Symbols, starting from the left, with a minimum of three. While three is the lowest number of symbols that you can land in order to activate the bonus, it is also possible to receive four or five, with one on each line. This is what the three consecutive Pearl symbols look like when a bonus is won: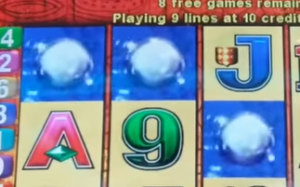 How Tiki Torch Pearl Bonus Round Works
Your number of spins in the bonus round will always be 8, regardless of how many Pearl symbols you line up on the screen. The difference is that you will win more on the base scatter payout if you receive four or five Pearl symbols. For example, 3 Pearls would pay out 180 credits, which is just two times your initial bet. While this guarantees a profitable spin no matter what, the actual bonus spins are where you can win much more money.
The best symbol that you can get in the bonus round is the Tiki Torch itself, which turns wild and creates multipliers. The second best symbols in the bonus round are the Knife, Canoe and Hut, all of which turn into wilds only during the bonus round. This is what the wild Tiki Torch symbols look like in the bonus round: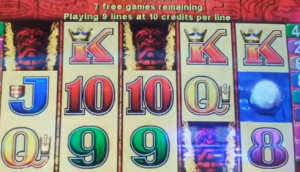 Tiki Torch Bonus Round Retrigger
It is possible to earn a retrigger during bonus rounds in Tiki Torch. In order to retrigger in this game, you will need to again line up three of the Pearl symbols. This will award you an additional 8 games in the bonus round. There is no limit to how many times you can retrigger within a bonus round.
Play Tiki Torch Slots Online
Aristocrat does not yet offer a real money version of Tiki Torch for play online. With that said, it is possible to play the game for free, which emulates the real money, live casino game, save for an expected difference in bonus frequency and payouts. You should expect the online version of the game to behave in almost the same way.
We checked at NJ regulated online casinos and offshore casinos alike, and as per Aristocrat general company policy, the Tiki Torch online game in particular can only be played for fun, without real money online.
Click Here for Our TOP 2023 USA Online Slots Site!