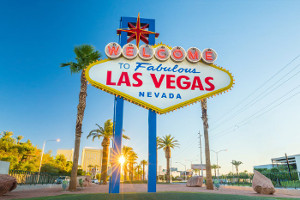 Las Vegas is probably the most well known gambling destination in the entire world. Visitors travel here by the millions each year to play slots and table games, to bet on sports or simply to have a good time. In fact, Las Vegas and the surrounding areas have one of the highest concentrations of slot machines in the United States, and they are available at virtually every casino.
Whether you want to play high limit slots, penny slots or find large progressive jackpots, Las Vegas will certainly have what you're looking for.
Las Vegas Casinos with Slots
It is estimated that the greater Las Vegas area has somewhere around 175,000 gaming machines (this includes slots, video poker and other electronic games). Las Vegas can be broken down into a few different regions. Casinos are either located Downtown (on Fremont St.), on the Strip (S. Las Vegas Blvd), or in Henderson and a few other nearby neighborhoods. Below we have reviewed all of these casinos, broken down by their location.
Strip Casinos
Aria
Bellagio
Caesars Palace
Cosmopolitan
Flamingo
MGM Grand
Park MGM
Venetian
Wynn
The area of Las Vegas that is located on S. Las Vegas Blvd is known as "the Strip" and offers a wide range of large resort-style casinos. This region is much newer than downtown, attracts the most tourists, and is the center of the quintessential Las Vegas experience. Casinos in this area offer every form of gambling you can think of – from slots and table games to poker and sports betting.
Downtown Casinos
Binion's Gaming Hall
Four Queens
The D
Downtown, primarily on Fremont St, is where the modern Las Vegas that we know today was first born. It started in the 1930s, and still hosts a wide range of casinos to this day. The casinos here have plenty of slot machines to satisfy visitors, and is just as touristy as the Strip.
Other Casinos Near Las Vegas
The city of Las Vegas has a number of suburbs and surrounding neighborhoods with casinos. Most of them are locals casinos that cater to residents, with slot machines and a variety of other games. You will often find the highest returns here on all games – from slots and table games to video poker. Some of these casinos are even slots parlors that only offer slot machines.
Playing Slots in Las Vegas
When it comes to slot machines, Las Vegas can be one of the most exciting places to play. There are dozens and dozens of casinos located within a small radius that all offer a wide range of slots. There are denominations available for every type of gambler – from penny slots to high limit slots that can go up to $500+ per pull. No matter what your preference is, you will find and abundance of games and limits to suit your needs.
Progressive Slots in Las Vegas
There is a large offering of progressive jackpot slots available in the Las Vegas gaming market. They are offered by a number of slot machine providers such as IGT, Aristocrat, Bally and more. Due to the number of visitors the area receives each year (and the amount of money wagered at slots here), progressive slot machines in Las Vegas can reach into the tens of millions of dollars. Almost every year you will read stories of at least one or two players hitting a huge, life changing win via jackpots on a progressive slot. This makes it an exciting place to play these types of games.
Staying in Las Vegas
Most of the casinos in Las Vegas (especially on the strip) have full resorts that offer luxurious rooms. This means you can get free rooms comped most of the time if you belong to one of the casino reward programs. Compared to other gambling destinations, such as Atlantic City, the amenities available at resorts in Las Vegas are often considered top notch. They can offer everything from full spas and pools to fitness rooms and world-class restaurants.
While Las Vegas casinos have a lot to offer, you should always take resort fees into consideration. Once non-existent, the resort fees charged by most casinos in Las Vegas have been slowly creeping up over the last decade. They can now be anywhere from $10 to $40+ per night in addition to the original booking price.
If you are staying in Las Vegas, especially for the first time, you should consider staying somewhere on the Strip. This area, which is located on S. Las Vegas Blvd, is in the center of it all and will allow you to easily travel from casino to casino during your trip. As a close second, Downtown Las Vegas on Fremont St also has a lot to offer.
Click Here for Our TOP 2023 USA Online Slots Site!