Spin Poker is a video poker variant. It is the closest video poker gets to slot machines. Spin Poker seems to be aimed at the type of player that prefers slots but wants some video poker action from time to time. It is the perfect mix.
The game is played on a typical Game King video poker machine. It may be part of a suite of games or by itself.
There are 15 card positions on a Spin Poker game. The game starts with the player receiving five cards. These are held across what resembles a three-play game. There are several differences between Spin Poker and a traditional triple play video poker game.
Spin Poker is only available at live casinos. Online casinos do not offer it.
Differences Between Spin Poker and Triple Play Video Poker
At first appearance, Spin Poker looks a lot like three-hand video poker. That is not the case.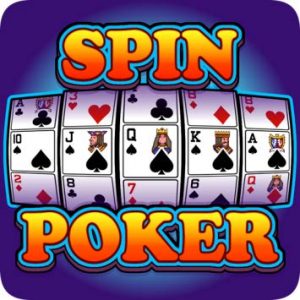 In Spin Poker, a player is dealt a five-card hand. The player can choose which ones to keep and discard. The ones kept stay on all three lines. After that, the machine randomly selects remaining cards and places them on the screen where discards would have appeared. Unlike multi-play video poker, the same card cannot be replicated. There will be only one instance of a card on the 15-card board. In multi-hand video poker, cards could repeat, except for discards, which remain out of the deck in the drawing part of the game.
Another difference between Spin Poker and multi-hand video poker is that there are multiple pay lines. There are nine different ways to win, much like a multi-line slot machine. The same hand can be in multiple lines, depending on how thy appear on the screen.
How to Find the Best Spin Poker Machines
Spin Poker returns the same as a standard video poker machine with identical pay tables. This means that you are looking for a full house to pay 9 on Jacks or Better, Double and Double Double Bonus, and Triple Double Bonus. For Bonus Poker, the full house should pay 8.
These pay tables are difficult to find for Spin Poker. You may need to play higher denominations to get it. You will need to play nine lines at five coins, meaning a quarter Spin Poker game requires $11.25 per spin. This can add up quickly. Make sure that you have the bankroll for the denomination with the best returns.
There is also Spin Poker Deluxe. This is essentially three boards of standard Spin Poker using the same starting hand. This game requires 27 lines of betting. This puts a maximum bet of a quarter game at $33.75.
Spin Poker Strategy
There is no special strategy to Spin Poker. You will hold the same cards as you would in the standard version of the title that you are playing. For example, if you are playing Bonus Poker, you will use that basic strategy.
Always make sure to bet five coins per line. This means that you will bet 45 coins per spin. This is nine lines times five coins each. Play the denomination that is most in line with your bankroll, especially since the game is high variance.
How to Increase Your Return at Spin Poker
You will need a players card from your favorite casino with Spin Poker to increase your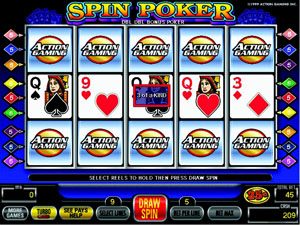 advantage. The only comp that you will receive without it is free drinks.
To get a players card, go to the rewards center. You will need a valid ID. In some casinos, you may also get one from the slot attendant. Once you have the players card, slide it into the slot in the video poker machine. This will track your play and award you slot points based on it.
If you play enough, you may get mailers. These will include free slot play, meals and hotel rooms. Big players may be assigned a host. This person will make all of your arrangements when you are on the property.
Click Here for Our TOP 2023 USA Online Slots Site!