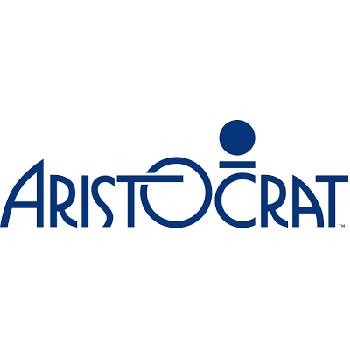 Aristocrat Leisure Limited is recognized globally as a leading producer of gaming technology. It is an ASX100 listed company and the second largest slot machine manufacturer in the world. Founded in 1953 by Len Ainsworth, the company is licensed in 240 jurisdictions and operates in 90 different countries. Aristocrat has headquarters in Sydney, Australia with marketing and development offices in South Africa, Russia, and the United States.
The company's refusal to bow to the status quo has earned them several industry awards, a devoted player following, and a staggering number of cash payouts. Since its inception, Aristocrat has tirelessly dedicated itself to creating games that offer a top-notch experience for players. They develop cutting-edge electronic gaming products and have proven to deliver the very best when it comes to online slots.
Aristocrat Slot Machine Reviews
Types of Aristocrat Slot Machines
Like other major gaming companies, Aristocrat manufactures the two most common types slot machines; video reel and classic, mechanical reel. All in all, Aristocrat offers over 300 unique game titles in their slot machine category. The company classifies their slots under six categories; Participation, Relm, M-Series, J-Series, E-Series and C-Series. These designations simply refer to the machine type, its software and underlying technology.
Most Popular Aristocrat Slots
Aristocrat may be most well known among casino goers for its iconic Queen of the Nile video slot game, featuring an ancient Egyptian theme. The company also offers a collection of slot machines that have linked progressive jackpots, which is one of their biggest revenue generators within the electronic game category. Aristocrat's most popular progressive machines include the Jackpot Carnival and Cash Express themes.
Aristocrat Partnerships and Licenses
Aristocrat is constantly seeking out new partnerships and licensing deals within the entertainment industry in order to develop new slot game titles. Most notably, Aristocrat has established partnerships with large media companies including HBO, ABC and Warner Bros. to bring gamblers slot titles like Game of Thrones, the Big Bang Theory, Sharknado, WESTWORLD and more. Many of these games are quickly becoming some of the company's most popular slots.
History of Aristocrat
Aristocrat's first slot machine was introduced the same year they were founded, in 1953. By 1956, Aristocrat has finished creating its revolutionary "The Clubmaster" collection of slot machines that included features such as multi-line and scattered payouts.
Len Ainsworth left the company in 1994, after a cancer scare. He later went on to found another gaming company, Ainsworth Gaming Technology, although the Ainsworth family still maintains a substantial stake in Aristocrat.
The Clubmaster
Aristocrat decided to revolutionize the gaming industry by introducing The Clubmaster collection in 1956, making it the first machine ever to offer multiline and scattered payouts. Aside from this, other technical advances included self-lubricating reel assembly bearings and Free Play lock. Also, in 1956, poker machines were legalized by the New South Wales Government in social clubs.
Two years later in 1958, the gaming company invented the world's first poker machine with fully lit reels and scorecard. The introduction of the new "Slimeline" and "Sheerline" machines greatly helped the company rapidly capture a significant share of the Australian market.
Global Expansion
Aristocrat Leisure Limited has a significant global presence in Africa, North America, Australia and New Zealand, the Asian Pacific, Europe, and India. The 1960s were a period of global growth for the company, with a strong portfolio of cabinets and games that enabled the company to expand.
In 1961, Aristocrat released an innovative game design called "The Aristocrat Nevada" in the United States, which became wildly successful. It also released "The Grosvenor" machine two years later, in 1963, and the world's first video slot machine, "Moon Money", in 1965.
Aristocrat Technologies
Aristocrat opened its office in the United States, known as Aristocrat Technologies, Inc. and it is based in Las Vegas, Nevada. This branch is responsible for designing, manufacturing, marketing, and selling games to the North American and Latin American market.
Aristocrat Technologies, Inc. was incorporated in 1963 and it has an additional office in Mexico City apart from its Las Vegas office. The company has sales and support centers in Minneapolis, Minnesota; Gulfport, Mississippi; Atlantic City, New Jersey; and Reno, Nevada.
When Aristocrat bought ALI Gaming Solutions in Africa, Aristocrat Africa was created as its own companies. Today, Aristocrat Africa has grown to become the largest South African slot provider.
Aristocrat's Entrance into the Digital Gambling Arena
Aristocrat entered the digital gambling arena in the 1970s, beginning with the invention of the video-based slot machine and an electronic credit meter. It also made history with the release of the world's first five – reel slot machine and found international success with its innovative, electronic game that they called "Wild West", all the way back in 1970.
The Venture Reel Is Invented
The Venture Reel, without a doubt, is one of the most remarkable innovations as far as slot machines go. Historically, 3-reel and 5–reel slot machines had a limited number of possible outcomes, which meant that the payouts players received were quite low.
As the video reel gaming system was introduced, it allowed some symbols to show more frequently than others. Usually this would mean lesser paying symbols would show more often while more valuable symbols would be more rare. As a result, in 1983, revenue from slot machines surpassed table game revenue in the United States for the first time ever.
Leasing in the U.S. and Listing on the Stock Exchange
In 1986, a change in legislation allowed gaming manufacturers in the United States to lease slot machines to casinos, bars, and clubs for a percentage of the floor takings or a lease fee arrangement (instead of selling them outright). Due to a high demand for its games in the Asian Pacific, Aristocrat opened an office in New Zealand in 1987.
In 1996, Aristocrat Leisure Limited went public and was listed on the Australian Stock Exchange. In 2000, the company secured licenses in Las Vegas, Nevada. It also formed a joint venture with Sammy Corp in Japan and acquired Casino Data Systems (CDS) in Nevada, in order to expand its systems business. Two years later, in 2002, Aristocrat made itself comfortable in its new Las Vegas office and also developed a significant presence in Macau, following its arrival into China in 2005.
Economic Crisis
In the 2000s, however, things were not booming well for the gaming company, as it was greatly affected by the global economic crisis. Revenue dropped sharply, and the company blamed the US subprime mortgage crisis that occurred between 2007 – 2010. The financial decline, however, did not deter former CEO, Jamie Odell, who was appointed in 2009, from seeking solutions on how to bring the company back on its feet.
Odell rejuvenated the management team, creating a "Play to Win" strategy that focused on turning the company around and marked the beginning of a new era for Aristocrat. Part of their strategy was to focus on the United States market by recruiting top industry talent to develop the world's greatest online, mobile and application-based slot games.
Aristocrat Games and Other Acquisitions
In 2014, Aristocrat presented hundreds of new games across a broader range of segments than it had ever done before. One of its games, Buffalo Stampede, was named the top "for sale" game in North America in Goldman Sachs' annual slot manager survey. The Walking Dead was named "casino product of the year" at the annual Global Gaming Awards held in 2014 and 5 Dragons Legends was voted best standalone slot game at G2E Asia 2014.
To strengthen its systems business, Aristocrat acquired material assets from Paltronics Inc., and it also acquired Video Gaming Technologies (VGT), which significantly increased its overall presence in North America, especially the Class II tribal gaming market.
The mobile game developer, Plarium Global Limited, was also acquired by Aristocrat in 2017. Plarium's hit games include Vikings, War of Clans, Stormfall: Age of Wall, Soldiers Inc.: Mobile Warfare, and Sparta: War of Empires. This acquisition helped Aristocrat greatly expand its addressable digital marketing into the strategy, RPG, and casual gaming segments.
Another leading mobile game developer, Big Fish Games, founded in 2002 by Paul Thelen, was acquired by Aristocrat in 2018. The company boasts of a diverse portfolio of profitable games across three segments: Social Casino, Social Gaming, and Premium Paid Games.
Trevor Croker is the current CEO of Aristocrat since March 2017. He was formerly Executive Vice President for global products.