Powerhouse Poker is a video poker variant. Its special feature is the awarding of free hands. This is triggered when dealt a winning hand. For non-wild card games, that is a pair of jacks or better. For Deuces Wild, it is three of a kind.
This feature comes with a charge. It costs five extra coins per line to receive it. The number of free hands depends on the dealt hand and the game played. The best dealt hand is a full house. This happens once every 694 hands in games without wild cards.
Powerhouse Poker is not available at online casinos. You will only find the game at live casinos.
How to Play a Hand of Powerhouse Poker
Powerhouse Poker is available in three and five play versions. You may play any number of hands to activate the feature. There is no advantage or disadvantage between them.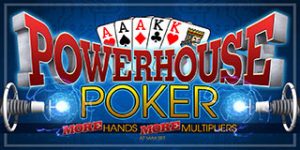 To start a hand, find your preferred denomination. Most Powerhouse Poker machines offer nickel, dime, quarter, half-dollar and dollar denominations. Once you have chosen your denomination, pick your game from the menu. The typical options are Bonus Poker, Double Bonus, Double Double Bonus and Deuces Wild. This will take you to the game play screen.
It is now time to bet. You may change the number of hands by touching the bottom of the screen. You will also see the amount to wager. This number should be 10 coins. If you do not intend to play the Powerhouse feature, choose a different machine, as the pay tables on this game are not ideal when compared to typical multi-hand games. Click the deal button to get cards. Alternatively, you may also click max bet to bet 10 coins on all hands.
The rest of the play mimics a standard multi-hand video poker game. You will get dealt five cards. Click the ones that you would like to keep. If you were dealt a winner, the machine will announce the number of free hands you receive. Complete the hand as normal by hitting the draw button. If you triggered the free hand bonus, click the deal button. It will not place a bet. If you did not hit the free hand bonus, this will require a wager.
When you are done playing Powerhouse Poker, click the cashout button. It will print a ticket. You may use this in a different machine or take it to the cashier and receive cash.
Powerhouse Poker Free Hands by Game
The free hands are different for each game. Below is a list of the most common games and the number of free plays awarded when dealt a winning hand at Powerhouse Poker.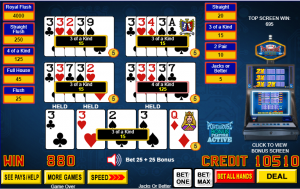 Bonus Poker
Pair of jacks or better: 1
Two pair: 2
Three of a kind, straight and flush: 4
Full house: 6
Four of a kind or better: 1
Double and Double Double Bonus and Bonus Poker Deluxe
Pair of jacks or better: 1
Two pair: 2
Three of a kind: 3
Straight: 4
Flush: 5
Full house: 6
Four of a kind or better: 1
Triple Double Bonus Poker
Pair of jacks or better: 1
Two pair: 2
Three of a kind and straight: 3
Flush: 4
Full house: 5
Four of a kind or better: 1
Powerhouse Poker Strategy
Play Powerhouse Poker as you would the standard title. For example, if you are playing Bonus Poker, follow the strategy that applies to the normal version of it. There is no additional strategy to learn as the bonus feature is based on the dealt hand.
How to Improve Your Return at Powerhouse Poker
You will need to get a casino players card to receive additional perks that add to your return when playing Powerhouse Poker. Go to the players club with your valid ID to get one. This will give you slot points while playing Powerhouse Poker and most other games in the casino. These points can be redeemed for free play right on your machine.
High volume players receive additional perks that add to the return. This includes weekly free play offers, meals and hotel rooms.
Click Here for Our TOP 2023 USA Online Slots Site!