Fives Aces Poker is a video poker variant. It is available in three games. The options are Jacks or Better, Double Bonus and Double Double Bonus. Fives Aces Poker uses a 53-card deck. The additional card is an ace that does not have any suit. It has a star on it. Its only use is as an ace to complete a straight or be used with other aces.
The additional ace changes the strategy is several situations. We go over that in a later section.
Five Aces Poker is not spread at online casinos. You will only find it at bricks-and-mortar ones.
How to Play Five Aces Poker
Five Aces Poker is spread in two versions. One uses a single line. The other is 3/5/10 play. Both play like any other traditional video poker machine. Choose your denomination and the Five Aces game from the machine's menu. Insert cash into the machine and make your desired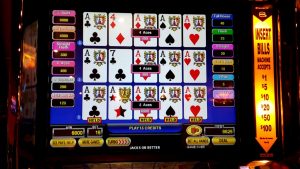 wager amount and the number of hands that you would like to play. Note that Five Aces Poker is only available on Game King machines that offer multiple games. You will find Five Aces in the tab on the left side of the screen.
How to Find the Best Five Aces Poker Machines
There are three games available for Five Aces Poker. For Jacks or Better or Double Double Bonus, you will want the full house to pay 9 and a flush to pay 6. For Double Bonus Poker, you will want the full house to pay 8 and flush to pay 6. This puts the game above 99 percent. All other pay tables for Fives Aces Poker have a return below 98 percent. You are more likely to find the 99 percent pay tables on denominations of quarter and higher.
Note that the Jacks or Better pay table has bonus payouts that are like Bonus Poker but has a short pay that makes it closer to Double Bonus games. This gives a boost to four deuces, threes, fours and aces. The Jacks or Better game only pays even money on two pair. This is like Double Bonus and other similar video poker pay tables. Also note that in Double Bonus and Double Double Bonus, it takes a pair of aces or better to get paid.
Five Aces Poker Strategy
The strategy for all Fives Aces Poker games mirrors the standard version of the same game, with a few exceptions. In Jacks or Better, split full houses when three aces are dealt, split two pair when one of the pairs is aces, and hold a bare ace over face cards, even in Jacks or Better. Do not hold unsuited face cards with a straight draw in Double Bonus or Double Double Bonus. That is because a pair of aces is the lowest hand that gets paid.
How to Increase Your Return at Five Aces Poker
Once you have found the best Five Aces Poker pay table and learned the best strategy, it is time to play the game. Before you get into action, make sure to get a players card from the casino. You will get this at the players center. You will need a valid photo ID. Slide the casino's players card into the slot. It should welcome you by name to confirm it was accepted.
You will earn slot points while playing Five Aces Poker and most other machines in the casino. You can turn these slot points into free play, food or hotel room comps. High volume players can expect mailers with free slot play, hotel rooms and meals. You may even get a host if you play Five Aces Poker and other games with significant action.
Click Here for Our TOP 2023 USA Online Slots Site!