Shamrock 7s is a popular video poker game in the South. The game uses one joker. It is spread at Harrah's Cherokee and Harrah's Cherokee Valley River. Both casinos are in North Carolina. Some California tribal casinos offer Shamrock 7s. It is also a common game in the West Virginia and Louisiana video lottery. Some bars and gas stations in the South also spread the game.
Leisure Time Technology invented Shamrock 7s. It was originally sold to tribal casinos. The game eventually made its way into a Pot O Gold platform that includes other video poker titles, slots and keno.
Shamrock 7s Special Features
Shamrock 7s has a special bonus feature. A player that makes three of more sevens in a hand gets a bonus round. The player will choose one of three pots of gold. The machine will award anywhere from six to thirty times the bet. The hand also pays the typical payout for its trips, full house, four of a kind or five of a kind. It the player hits five sevens with an amount that qualifies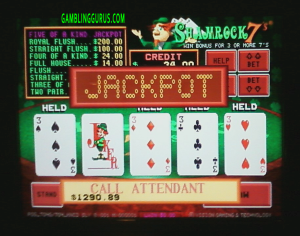 for the progressive jackpot, a hand pay is required and the bonus round will pay after the machine is reset.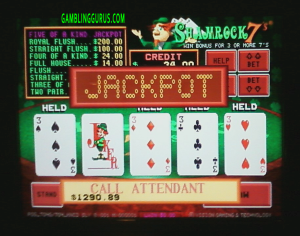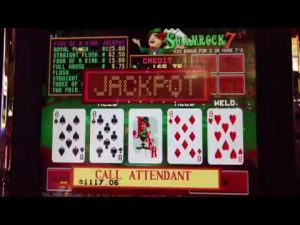 All Shamrock 7s machines require different than the typical five coins to trigger the progressive jackpot. This can make it difficult to compare to other games. The progressive jackpot reset is usually 500 to 1. This means a quarter machine requires eight coins for $1,000. Half-dollar games require $4 for $4,000. The dollar and two-dollar machines require four coins.
Pot O Gold machines are restricted to one denomination. If you want to move up or down in limits, you will need to find a different machine.
How to Find the Best Shamrock 7s Machines
The best Shamrock 7s games pay 15 per coin on four of a kind while paying 2 coins on three of a kind. The pay tables are on the screen when you choose the game from the menu.
Best Shamrock 7s Pay Table
The pay tables tend to get better as the denomination increases. The pay table below is the one found on the two-dollar machines at Harrah's in North Carolina. The amount shown is how much is won per coin wagered. Three sevens receives a special bonus round with an award of six to thirty times the bet.
Five of a kind: 500 (progressive that resets at 500:1 with four coins)
Royal flush, with or without joker: 100
Straight flush: 50
Four of a kind: 15
Full house: 5
Flush: 4
Straight: 3
Three of a kind: 2
Two pair: 1
Where to Find the Best Shamrock 7s Video Poker
The only machines we are aware of with this pay table are at Harrah's Cherokee and Harrah's Cherokee Valley River in western North Carolina. It is on the $2 denomination in the high limit salon. You may find this pay table on machines in gas stations, but it is not spread at any other casinos. Shamrock 7s is not available at any online casinos.
How to Maximize Your Return at Shamrock 7s
The best Shamrock 7s pay table only returns about 97 percent with perfect play. The return will increase slightly with the size of the progressive. The best bet is to play another game in the casino. If you prefer Shamrock 7s due to its bonus round and easier to hit jackpot, we have some suggestions.
The machines will allow the player to wager up to 50 coins. The progressive jackpot remains the same in this case. We do not recommend betting more than the number of coins that triggers the progressive.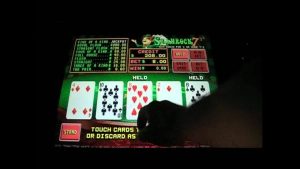 Make sure that you understand the return of the bonus round. Players should not throw pairs away to go for a bare 7. Go for open-ended straight draws over a bare 7 but go for a pair of 7s over an inside straight draw. Break apart two pair if one pair is 7s. Never throw away a full house to go for the bonus round. Treat the joker like a 7 if it appears in a hand like one.
A players card is a way to get reimbursed for some of the house edge in this game. It takes $10 of coin-in to receive a penny in comps at Harrah's Cherokee and Harrah's Cherokee Valley River through its Caesars Rewards loyalty program. That is only 0.1%. However, the mailers you will receive on this action may be substantial. It is common to get tickets in the mail that are worth hundreds of dollars several times each month. You may also get bonus tier and credit days. These are typically on Sundays and Mondays.
Hotel rooms and food comps may also be offered through Caesars Rewards. The mailers may include other destinations, such as Atlantic City or Las Vegas. This is why it is important to get a Caesars Rewards card before playing Shamrock 7s at Harrah's.
Unfortunately, most other gaming establishments with Shamrock 7s do not offer any perks. The best you may get is a free soft drink or a match play.
Click Here for Our TOP 2023 USA Online Slots Site!