Bonus Poker is one of the most popular video poker variants. It is based on the original Draw Poker, which is called Jacks or Better today.
Bonus Poker is played just like Jacks or Better in terms of strategy. Bonus Poker is the only variant in that family of games that pays two coins for every one bet when two pair is made. All other bonus games only return the bet on two pair.
Why You Should Play Bonus Poker
Bonus Poker is often the best video poker game in a casino. The top pay table returns eight on a full house and five on a flush. It can be found in many Las Vegas Strip casinos, even at the $1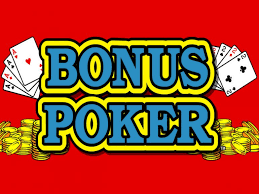 denomination. It is spread all over the downtown and locals market in Las Vegas. Most Atlantic City casinos, as well as many regional markets. Most online casinos have the top pay table. Bonus Poker typically has the highest return on bar top machines.
The strategy for Bonus Poker is identical to Jacks or Better. If you can play one, you can play the other. The strategy is simple to learn. There is no easier game to play.
Why You Shouldn't Play Bonus Poker
There is not much variance at Bonus Poker. Four aces pays 80 to 1 and quad twos, threes and fours pay 50 to 1. All other quads pay the typical 25 to 1. This means you will have to hit a heater of four of a kinds and straight flushes to beat it if you cannot make a royal flush. This can cause long downward trends in your bankroll.
The house edge at Bonus Poker is a bit higher than most other full pay games. The return on the 8/5 version is 99.17%. That is almost double the house edge of full pay Jacks or Better with only marginally more variance. If you find a bank of full pay games, Bonus Poker probably has the lowest return on it. You will probably want to pick another game.
Bonus Poker Full Pay Table
The following is the best pay table that you will find in a casino for Bonus Poker. With perfect play and five coins wagered, the game returns 99.17%. Multiply the numbers below by the coins wagered. Note that the royal flush payout changes when betting fewer than five coins.
Royal flush: 800 (250 if fewer than five coins wagered)
Four aces: 80
Four twos, threes or fours: 50
Straight flush: 50
Full house: 8
Flush: 5
Straight: 4
Three of a kind: 3
Two pair: 2
Pair of jacks or better: 1
Where to Find Full Pay Bonus Poker
Full pay Bonus Poker can be found at nearly all Las Vegas and Atlantic City casinos. There are also many regional markets with the 8/5 pay table.
On the Las Vegas Strip, you will typically need to play at least the dollar denomination to get 8/5 Bonus Poker. Some casinos require the $5 denomination. The exceptions are The Cromwell and Circus Circus. Both offer quarter full pay Bonus Poker. The Cromwell adds half-dollar.
Most downtown Las Vegas and locals casinos spread quarter 8/5 Bonus Poker up to at least the $1 denomination. You may even find it at nickels and dimes at some locals casinos in North Las Vegas and on Boulder Highway.
Many online casinos also offer the game. You are likely to find the full pay table in single line games but not multi-line ones.
Bonus Poker Strategy
Learning the Bonus Poker strategy will also make you able to play Jacks or Better. Both games share the same strategy, which you will find below.
Stay on a dealt hand of a full house, four of a kind, straight flush or royal flush. Unless you have four to a royal flush, also stay on a straight or flush. Otherwise, follow the list below, starting at the top:
Four to a royal flush
Three of a kind
Four to a straight flush
Two pair
Pair of jacks or better
Three to a royal flush
Four to a flush
Pair of twos through tens
Open-ended straight draw
Three to a straight flush where the number of cards jack or better equals the number of gaps or has no gaps
Ace, king, queen, and jack
Two suited royal flush cards, excluding a ten
Four to an inside straight with three cards jack or higher
Three to a straight flush with one gap and no high cards, two gaps and one high card or includes an ace
King, queen and jack
Queen and jack
Jack and ten suited
King with queen or jack
Queen and ten suited
Ace with a face card
King and ten suited
Bare jack, queen, king or ace
All remaining three-card straight flush draws
If none of the above applies, do not hold any cards. This will redraw a new hand.
How to Increase Your Return at Bonus Poker
The pay table on Bonus Poker holds 0.83% with perfect play and five coins wagered. This means that there is room to include it in promotions. You can increase your return by participating in these.
At a live casino, get a players card. You will need a valid photo ID for this. This will award you slot points with every wager. The return runs from 0.1% to 0.3%, depending on the casino. You may also find multiplier days that can get the game closer to 100%. For example, a six times points day at Station Casinos brings 8/5 Bonus Poker to 99.77% before mailers. Speaking of mailers, a players card may help you get these. Mailers include free slot play, meals and hotel rooms.
At an online casino, you do not need to do anything to participate in promotions. Your play is automatically tracked. You qualify for a bonus with your first deposit. Note that the wager requirement is higher for video poker than slots. You may also get slot points with every bet. If you play enough, the online casino will tailor offers based on your VIP level.
Click Here for Our TOP 2023 USA Online Slots Site!