For a long while, the state of New York was behind the times when it came to casino gambling and sports betting. In a recent shift however, New York is beginning to warm up to the idea of legalized gambling as they now have online gambling operations and a few casinos in the Upstate region. With the state's gambling regulators set to offer three new casino licenses in the Downstate part of New York, there is fierce competition for these limited licenses. The most recent entrant into the race to open up a full-fledged New York City casino is Steve Cohen, the billionaire owner of the New York Mets baseball team.
Cohen's proposed idea is expected to cost more than $8 billion and will turn the area immediately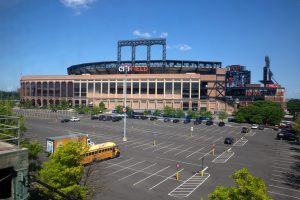 surrounding the Mets' Citi Field into a casino, hotel, and concert venue. Cohen has teamed up with Hard Rock International in putting this compelling vision together, but they are far from the only horse in the race and it will be intriguing to see who state regulators choose, and why.
Challenges Posed, But Locals Supportive
The plan to bring an $8 billion casino, hotel, and concert venue into a New York neighborhood with more than 2.2 million residents presents some obvious and some not-so-obvious challenges. The first and most obvious challenge is the space that is needed, but Cohen plans to use roughly 50 acres of land that is currently used for Citi Field parking lots. Even though Cohen and Hard Rock have the land readily available to use, it will still be up to state and local authorities to grant the land use permits that will be needed to begin construction.
Another challenge is the fact that Cohen and Hard Rock are up against fierce competition that is fighting over only three casino licenses. With other casino locations proposed for Times Square, Coney Island, Hudson Yards, and other high-profile places in the city, the Citi Field plan is far from the only option on the table. What's more, two New York City-area racetracks that currently offer slots are also vying for these licenses, and they think their experience and the fact they have been running a casino business in the area means they should be first in line. As of now, there is little indication which direction the state gaming control board is leaning toward when it comes to granting these three Downstate licenses, and we are expecting more casino proposals to enter the race before long.
With all of that being said, early indication from the residents of Queens is that a casino/concert venue like the one Cohen has proposed will be welcomed with open arms. Behind calls to revitalize and build up the neighborhood, residents seems excited at the prospect of their beloved Mets' stadium being further beautified.
Cohen and Hard Rock may not be breaking ground on the actual construction of this $8 billion mega-site anytime soon, but they are laying the groundwork for doing exactly that. For months now, Cohen and his team have been using lobbyists, gaining support from local officials, and even trying to win over everyday citizens. It will be interesting to see how things shake out in the fight for Downstate New York casino licenses, but early indications are that we are in for a great watch as competing parties fight it out. New York City is not likely to turn into a Las Vegas-type gambling hub, but it is encouraging to see them opening their doors to the idea of more casinos in the area.