Believe it or not, there are many people that play video poker for a living. It takes specific skills and mastering basic strategy, among other things. In this article, we will go over what these players do to beat one of the most common games in a casino.
Learning Perfect Strategy to Specific Games
The most important aspect of becoming a video poker pro is learning perfect strategy for specific video poker games. The best game to learn is probably full pay Double Bonus Poker. That is because it is the most common full pay game. Other important games are full pay Double Double Bonus and Deuces Wild. I do not recommend learning different wild card games, at least at first. This can become confusing.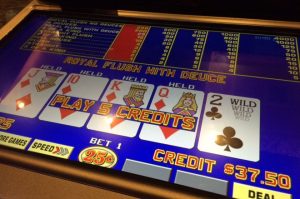 You can use video poker strategy calculators to determine the best way to play full pay video poker. There are exceptions to many of the basic strategy. Each time you come up with an unusual hand, put it into a calculator, like the one at videopoker.com, to determine how you should play it.
Finding Full Pay Video Poker Games
You will need to find the best pay tables for each video poker game at casinos near you. VPFree2 is a great resource for that. That site has a database of nearly every casino in the United States. As you read the site, you will notice that most full pay video poker games are in the Las Vegas area. It is not a coincidence that most video poker pros live there.
You do not have to live in Las Vegas to make money playing video poker. There are promotions across the country that make some games beatable. You will need to get a players card at the casino to participate in most promotions.
How to Get a Players Card
It is simple to get a players card at a casino. Bring a valid photo ID to the players center. The hours are typically 8am to 10pm, though some run later hours, especially in tourist areas and on weekends. If the players center is closed, ask a slot attendant or table game supervisor. They should be able to get you one.
Once you have the players card, slide it into the machine if you would like to participate in promotions. You may not want to use a players card on 100% machines that do not pay full points or none at all. Some casinos may decide not to send you mailers with special offers if you play them too often.
Combining Promotions with Good Video Poker Pay Tables
These promotions are often spread out throughout the week. They may take the form of hot seat drawings, point multipliers, free tournaments or point races.
Hot seats are ways casinos draw people into the casino during slow or competitive times. A hot seat is won when the system draws the player's name out of active players. Hot seats can start at $20 and run into the hundreds of dollars.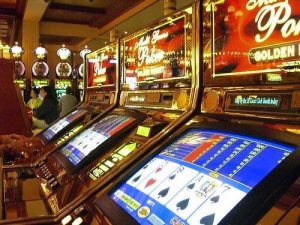 Check out the casino's visitors on days where there are hot seats, especially at smaller casinos. During weekdays, you may find value playing video poker during these drawing times. Bad weather can increase your return because fewer people go to casinos when it rains or snows.
Point Multiplier Days
Casinos may offer point multiplier days. These are often on weekdays when the casino is not busy. The multiplier will usually be two or three times the normal slot rate. This can add up, especially if the casino's normal slot point rate returns 0.2% or better. Check casino websites and your mailers to find these promotions. It is common for players to have personalized offers with this type of promotion. It may take games that do not normally return 100% over the top.
Free Tournaments
Many casinos spread free slot and video poker tournaments for loyal players. These often require a certain level of players card tier or points earned during a specific period. Slot and video poker tournaments pay out in free play. You can redeem this right on your favorite video poker machine. You must wager the free slot play one time to withdraw it.
Point Races and Chases
Some casinos may offer perks for earning a certain number of slot points in a day or earning the most points among other players. Divide the prize by the number of points it would take to earn to determine the additional payback percentage. This can also take negative video poker games into the positive.
Giveaways
Some casinos, especially in smaller markets, give away large prizes like cars, boats and motorcycles. There is often an alternative cash or free slot play prize. These usually end as a drawing. Entrants are often determined by hot seat or point drawings. The best strategy for these types of drawings is determine which days entries are given away and play those days, focusing on less popular times like days in the middle of the week or Sundays.
This will increase your chances of winning a drawing, which often comes with a separate cash or free slot play bonus.
Click Here for Our TOP 2023 USA Online Slots Site!