Wheel Poker is a video poker variant. It is dealt with all the typical titles, such as Bonus Poker, Double Bonus, Double Double Bonus, Triple Double Bonus and Deuces Wild. Wheel Poker is dealt in three and -play versions.
As the name implies, the game uses a wheel. It spins every time a player makes a natural four of a kind.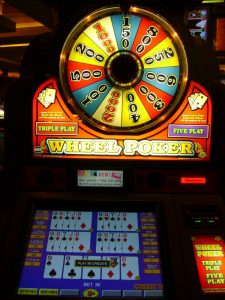 There are two forms of Wheel Poker. One is the traditional version of the game that uses a wheel that has numbers representing a win by number of credits. In Wheel Poker Deluxe, there are drawing hands on the wheel. The player draws at this hand the number of times on the wheel. The player is paid based on the number of times the hand is improved.
Both games require an additional wager to trigger the wheel bonus. This is one additional credit per hand. This makes a three-play game cost three more credits per hand and five-play takes five additional ones, for a total of six coins per line.
Wheel Poker is only spread at live casinos. No online casinos have the game.
How to Find the Best Wheel Poker Machines
The weighting of the wheels on Wheel Poker and Wheel Poker Deluxe are identical from one machine to another. The only difference is the pay tables. In most cases, the nickel and dime games will return about 98 percent and quarter and above have 99 percent paybacks.
Run through the pay tables to compare games. In the best-case scenario, you are looking for Double, Double Double and Triple Double Bonus games to pay nine coins for every one bet on a full house. Bonus Poker should pay at least seven.
How to Play Wheel Poker
It is simple to get started with a hand of Wheel Poker. Choose your denomination on the game's main menu. This will show the list of available games. The titles will usually be Bonus Poker, Double Bonus, Double Double Bonus, Triple Double Bonus and Deuces Wild. Choose your favorite game and it will take you to the cards.
Click the max bet button to get into action. This will bet six coins on all hands. We do not recommend playing these machines if you are not going to bet the Wheel Poker feature as the pay tables may not be ideal. You are likely better off playing standard three and five-play machines for a better return.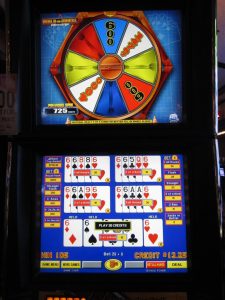 Once you are dealt cards, choose the ones that you would like to keep by pressing the corresponding hold button or the touch screen above the card. Once you have made this decision, click the draw button. Your discards will get replaced by new cards. The deck is reshuffled after every hand is drawn. This means the same card may repeat in the draws. You cannot redraw a discard.
If any hand makes a natural four of a kind, the spin feature will be activated. Every natural four of a kind gets a spin. If you are dealt four of a kind on a five-play, you will spin the wheel five times.
All hands and bonuses are graded and paid once the draws and spins are complete. To play another hand, click the deal button. When you are ready to leave, click the cash out button. It will print you a ticket that may be used in a different machine or redeemed at the cashier or kiosk.
Wheel Poker Strategy
There is no difference in the strategy between traditional versions of a video poker game and its Wheel Poker counterpart. Follow the standard basic strategy.
How to Improve Your Return at Wheel Poker
Wheel Poker is only available at live casinos. You will need to get a loyalty card to get additional perks when playing the game. Head to the players center with a valid ID. The employee will create an account for you and give you a card. Slide it into the machine. Once accepted, it will track your play. You will receive slot points that may be converted into comps and free play.
If you play long enough or your bets are large, you may receive offers by mail and email. These can include free slot play, hotel rooms and meals. Extremely loyal players will often be assigned a host.
Click Here for Our TOP 2023 USA Online Slots Site!