Out-of-work employees of New York state's casinos rallied outside of the state Capitol last Thursday. Their goal was to urge Governor Andrew Cuomo to reopen private casinos after Covid-19 and state health guidelines forced them to shut down. For these employees, continued closures threaten not only their livelihoods but also the well-being of their families and the community at large.
Governor Cuomo has been firm in his commitment to a continued shut down. He has stated that his decision to reopen or remain closed is based on "an issue of density, the likelihood of compliance and the essential nature of the business."
The State Perspective
Freeman Klopott, spokesman for the state of New York's Budget Division, said "casinos remain closed along with similar activities across the state as they invite congregation among customers in proximity to each other while eating and drinking, activities that don't allow for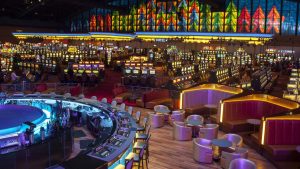 consistent mask-wearing," New York state has kept in strict compliance with the latest data and health guidelines pertaining to infection rates among its citizens. Their goal is to reopen the economy in a timely but safe manner and, says Klopott, "we are doing the same when it comes to casinos."
In light of casinos reopening in neighboring states, Klopott said, "We've already seen casinos in California, Arizona, and Miami re-open and then close due to Covid-19. In New York, we will continue to track the data, the science and activity at casinos around the country, and will make a decision on re-opening them here when health experts determine it is safe to do so."
An Employee's Take
Yet casinos are one of the few remaining industries in New York that are still closed. They are among movie theaters and larger entertainment businesses to remain shut down, rather than being reopened on a limited basis. Many of the state's other forms of business are back up and running albeit within New York's Covid-19 related health guidelines.
In addition, the seven Native American operated casinos in New York have reopened. Located on sovereign land in central and western New York, they are operating under their own health guidelines and safety precautions.
Meanwhile, thousands of employees of New York's private casinos remain out of work. Last month, over 4,000 workers were handed layoff notices. This includes workers from Rivers Casino Resorts World Catskills and Resorts World New York City, Tioga Downs, and Vernon Downs.
Many at Thursday's rally simply want more information from the government and guidelines on what to expect moving forward. Valerie McIntyre, a Table Gaming Supervisor at del Lago Casino in Seneca County said, I ask Governor Cuomo on our behalf: Please see us. Please hear us. We need to work. We need to support our families. We need to begin to live again." Jeff Gural owns Tioga Downs and Vernon Downs. He thinks that Governor Cuomo is doing a great job of keeping infection rates in the state down. However, there is no doubt that he would like to reopen and welcome back his employees and patrons. He said, "the hard part for me is I don't know what to tell my employees on whether to wait or look for another job." The goal of Thursday's rally was to elicit exactly that response from New York's Governor and Legislature.