Casinos on the Las Vegas Strip are facing an interesting problem in the fallout of the Covid-19 pandemic. There is a major coin shortage in the industry and casinos in Las Vegas are not alone. Banks and coin operated businesses, such as laundromats, have also been affected and on a national scale.
The Problem Hits Close to Home
The El Cortez Hotel and Casino in downtown Las Vegas caters to the fans of the classic, timeless Vegas. Patrons are treated to the retro sights and sounds of a Las Vegas that harkens back to Frank Sinatra and the Rat Pack. But management is worried that the sounds of the vintage slot machines will stay quiet even after the post-pandemic reopening. "Our first coin order that we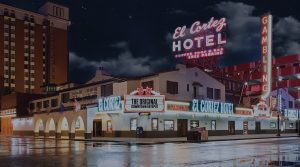 did after reopening, in July, we ordered $30,000 in quarters, when the Brinks people came, they brought us just $500 in quarters. That's when we realized firsthand that there was a coin issue." El Cortez Manager Adam Wiesberg and the rest of the casino industry have had to think creatively in order to stay ahead of the coin shortage. Prior to the pandemic The El Cortez had roughly $120,000 in coins ranging from nickels and quarters to 50 cent and dollar coins. After the Covid-19 related shutdowns in March, the casino had deposited all but $30,000 of those coins according to the Las Vegas Sun. Due to the difficulties in resupplying, according to Wiesberg, "we're fortunate we kept that $30,000."
A National Scale
The shortage is not limited to Las Vegas. The nation has seen a marked decrease of coins in circulation. Some businesses have been forced to request exact change or strictly electronic payments. The problem has reached such a level as to demand government action. In July of 2020 the U.S. Federal Reserve convened the U.S. Coin Task Force. The task force consists of 22 members ranging from government agencies to banks and businesses. Their goal, from a supply chain perspective, is to identify ways in which the economy can address and mitigate the effects of the coin shortage and help circulation. In June, Fed Chair Jerome Powell, at a House Financial Services Committee hearing, said, "we're working with the mint to increase supply, and we're working with the reserve banks to get that supply where it needs to be, so we think it's a temporary situation."
Creative Solutions
In Las Vegas, the casinos are trying creative approaches to work around shortages. The Cosmopolitan of Las Vegas is allowing patrons to choose the option of printing a ticket to receive their change at a later date or choosing from one of four rotating charities and pledging their change as a donation. This saves the casino from having to dispense much needed coinage. Chelle Adams is the Chief Financial Officer of The Cosmopolitan, she said, "Since we reopened our doors following the mandatory Covid-19 closure earlier this year, we have seen record numbers in both the number of transactions and in monetary donations. We are immensely thankful and proud of our guests' efforts in wanting to support our community throughout the trying current climate."
The Cosmopolitan also rewards its employees for bringing in loose change from home. For every $60 in coins that an employee brings in, they earn gifts and points to be used toward the casino's rewards program. Another Las Vegas casino, The D Las Vegas, is home to the Sigma Derby slot machine. Gamblers bet on mechanical horses on a horse track themed slot machine. The D is running a promotion titled "I helped save Sigma Derby." Customers who bring in a pound of quarters can receive a hat and those who bring in three pounds can trade them in for a hat and a t-shirt.