A Michigan Man has pleaded guilty in federal court after conducting an elaborate fraud scheme that allowed him to withdraw more than $100,000 at various casinos. The man used prosthetic face masks to change his appearance, and created a number of false identification cards, as he took thousands from numerous unsuspecting gamblers at casinos across two states. In addition to the prosthetic face masks, the man utilized hats, glasses, and surgical masks to disguise himself at each of the locations he visited. Through a calculated series of moves, he was able to exploit casino rewards programs, stealing the identity of customers and withdrawing cash in their names.
The Guilty Party
John Christopher Colletti, 56, officially pleaded guilty to wire and identity fraud on Tuesday. Colletti, with his various disguises, was able to take more than $125,000 from gamblers. His elaborate plan has now earned him up to a maximum of 20 years in prison for wire fraud and two years for identity fraud. Colletti will be officially sentenced later this summer.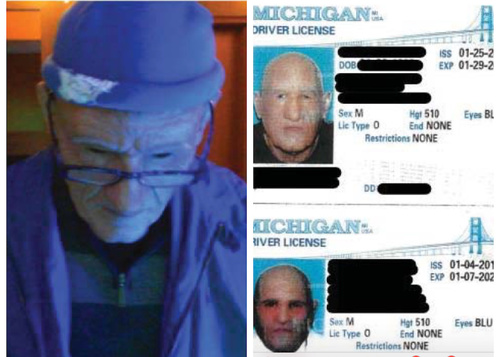 Colletti used a face mask to make him look like an older white male before visiting casino kiosks to take out thousands of dollars in cash. After amassing more than $100,000, the FBI became involved, eventually identifying Colletti. Timothy Waters, a special agent from the FBI's Detroit Field Office, shared that Colletti's actions impacted many innocent gamblers and that the FBI needed to ensure that these actions of identity theft were addressed, and the guilty party was held accountable.
Casino Security Challenges
In order to operate casino kiosks, gamblers must present their driver's license and enter the last four digits of their Social Security Number and telephone number. Colletti specifically targeted VIP Preferred Program casino patrons. VIP customers typically have access to features that make it easier for them to withdraw and deposit, and in Colletti's case this gave him access to withdraw larger sums. The system is designed to keep customers safe by having them provide their personal information first, but Colletti managed to purchase the personal information of his victims off the internet, allowing him to create fraudulent driver's licenses made in their names.
Colletti was first flagged after withdrawing large sums from kiosks at numerous casinos. Thanks to security cameras, investigators were able to catch Colletti in the act, despite the fact that he used many different disguises. He first gained the attention of authorities after 10 instances of identity theft were found at MGM Grand Casino Detroit in May of 2019. From these 10 cases, Colletti was able to withdraw $98,840. In a single instance, Colletti was identified as wearing a prosthetic mask to disguise his appearance, and he went on to make 15 transactions totaling $30,000 at various kiosks in the casino. From there, security surveillance was able to track Colletti to his next destination, where he removed his disguise and made off with his cash.
Paying the Damages
Colletti was not arrested until Mach 12, 2020, at the Prairie Band Casino. In this instance he was wearing a straw hat and glasses while using a mobility walker. On this day, Colletti withdrew $20,000, which required him to present his Social Security number. When approached by security, Colletti retreated to the restroom removing his disguise and fleeing the casino. Security found the disguise left in the restroom with cash, driver's licenses, and a Nissan car key. After Colletti was arrested, a search warrant was obtained and police eventually discovered face masks, flash drives, 83 driver's licenses, 14 insurance cards, and 19 players cards from various casinos like the MGM Grand.
The lucrative scheme reveals the real dangers of identity theft and the importance of protecting personal information. Thanks to the security systems in place at the casinos that Colletti visited, the customers whose information was compromised will be paid back in full for their losses. Global Payments Gaming Services, the manufacturer of the casino kiosks that Colletti withdrew from, will be paying back the customers who were affected. Colletti will eventually pay the full $125,740 back to GPGS.