The second fiscal quarter of 2023 was another profitable one for Atlantic City's nine casinos, but the near-term future is being called into question due to those profits trending in the wrong direction. Compared to the second quarter of 2022, when pent up consumer demand was in full swing, Q2 2023 profits fell by up to 20% across the board.
On its face, the waning year over year profits could seem to be a byproduct of American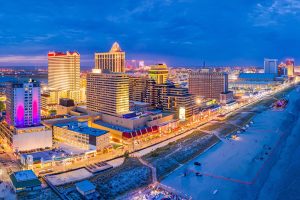 consumers tightening their wallets in the face of increasing prices and interest rates. When you dig a bit deeper though, there are many factors at play. Some of these are as simple as a more price-conscious consumer, but others may surprise you.
Worker Pay Pressures Profits
One of the biggest factors pressuring the bottom lines of Atlantic City's casinos is something that has almost nothing to do with foot traffic on the casino floor. Compared to a year ago and thanks to a deal reached between casinos and casino workers, Atlantic City gambling establishments are paying their employees considerably more. Though this is an expected pressure, it has still been credited with being largely responsible for thinning profit margins.
On top of this pay increase, casinos are now employing significantly more workers than they were a year ago thanks to an increase in visitors. The management teams of AC's top casinos may be worried about the prospect of slowing or even vanishing profits, but the silver lining to all of this is that profits can still be found in abundance everywhere. This points to thriving tourism that is still showing its face in the wake of the COVID-19 shutdown of 2020 and 2021.
A Look Into the Rest of 2023
In Atlantic City and elsewhere, 2023 has been a year of resurgence. Gambling destinations across the country are reporting substantial increases in visitorship and, by extension, profits. Up until this point we have seen a consumer that is eager to get out of the house and experience…experiences. More recently though, rising prices on everyday household goods coupled with rising borrowing rates have some concerned that the resurgence seen through the first half of 2023 may soon be a thing of the past.
It is difficult to determine the fates of individual casinos, but with each passing year the gambling industry in the United States grows stronger. Whether this comes in the form of states establishing online casino networks or the construction of new brick and mortar casinos in places like Las Vegas and Atlantic City, the US remains the world's top gambling destination, and that is not something that is likely to change anytime soon.
A few years ago, the biggest issue was that of online casinos and where they would be legalized next. As we look forward to the rest of 2023 however, the focus seems to be much more on physical casinos than online. Chicago, Virginia, Louisiana, and many other jurisdictions are dipping their toes in or expanding the brick and mortar casino realm. The construction of new physical casinos is something that is always met with controversy, but as time passes it seems as though the general opinion on gambling is changing for the better in the United States.