Up and down the east coast, states are continuously expanding on their forays into the world of legalized gambling. In states like Maryland and Massachusetts this has come in the form of recently established online sportsbooks, and in states like Pennsylvania and New Jersey there seems to be new online and brick and mortar casinos coming into play every quarter. As you move further south, below Virginia for example, legalized and regulated gambling markets are more difficult to come by.
North Carolina is an interesting state when it comes to gambling because it is not entirely devoid of it, but it is also far from a gambling destination. The best illustration of this is the location of the state's three casinos, all of which are owned and operated by Native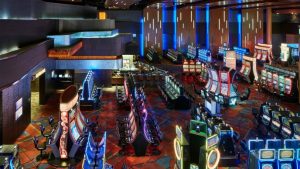 American tribes. As it presently exists, North Carolina state law does not sanction the existence of casinos, whether online or otherwise. For this reason, the only casinos you will find are located far from major population centers like Raleigh and Charlotte, making them difficult to access for the overwhelming majority of North Carolinians. Lawmakers who are looking to secure both increased tax revenue for the state and reelection for themselves have taken note of the warming views on casino gambling and are beginning to discuss the steps needed to be taken to make North Carolina more competitive with its east coast neighbors, particularly Virginia.
Small First Steps Being Taken, Legislation Awaited
In the wake of the upcoming Labor Day holiday, North Carolina Republicans are planning to hold formal discussions about what legalizing casino gambling would look like. On its face this is exciting news, but North Carolina House Speaker, Tim Moore (R-Cleveland), was quick to temper expectations by making it clear that legalized gambling is still a long way away. Speaking to the infancy of this endeavor, Moore said, "At the end of the day, we haven't had a definitive proposal laid on the table for caucus members to discuss, for them to weigh in one way or another. It's all been a conceptual discussion."
The discussion may be conceptual in its current form, but lawmakers have already begun throwing around plans that would allow for the establishment of casinos in Rockingham County (near Greensboro), Nash County (near Rocky Mount and home to a 10+ mile stretch of Interstate 95), Anson County (east of Charlotte), and on Lumbee tribal lands.
These particular counties were chosen strategically, of course. They are home to or located near large population centers and tourist thoroughfares, but also home to local lawmakers who have expressed interest in welcoming casinos. The phrase being used continuously within this discussion is "entertainment district". The theoretical North Carolina casinos, once established, will exist within so-called entertainment districts, where there will be restaurants, shopping, and living spaces in addition to a casino location. This is not dissimilar to approaches taken by states like Maryland and is thought to have a higher likelihood for success because the plan focuses on economic development on the whole, rather than simply bringing gambling to North Carolina for the sake of doing so.
Also mentioned was bringing video lottery terminals to locations all over North Carolina. There is not much indication as to what this will look like, but the thought is something similar to Virginia, where these gaming terminals exist anywhere from bars and restaurants to gas stations and liquor stores.
More Organization Needed to Move Forward
As is so often the case, the plan for bringing casinos to North Carolina is one that looks and sounds good on paper but is much more difficult to bring to fruition in the real world. Chief amongst the challenges to expanding legalized gambling in North Carolina is the fact that it is still a divisive issue. Recent polls indicate that upwards of 55% of North Carolinians (and even higher percentages in the aforementioned counties) support expanding legalized gambling. This is a majority, but not one that can be relied upon. Especially when most citizens have expressed a desire for a referendum on gambling expansion, not a bill written behind closed doors and voted upon by only a few senators and representatives.
No matter what way you flip it, North Carolina needs more concrete steps forward before anyone can get overly excited at the prospect of more casinos being built. At its core, it is an encouraging sign that state lawmakers are entertaining the issue of expansion, but the reality is that a significant amount of work is needed before more casinos are sanctioned in North Carolina.