Rosie's Gaming will be opening its latest slot machine parlor in the town of Dumfries in southern Prince William County. The facility will host over 100 machines and marks a continued expansion of gambling in the state.
The machines are know as historic horse racing slots. They function exactly the same as traditional slot machines with the same look and feel as those on the Vegas strip. The odds and results however, are based on the outcomes of old horse races. The terminals offer a rarely used feature which allows users to wager based on stats of the horses' odds and previous results.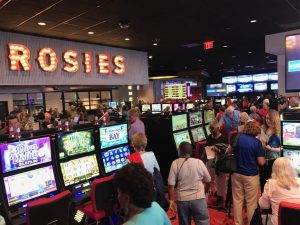 Gambling expansion in Virginia has had a tough time getting a foothold. Voters in the state have long rejected the practice. However, the Virginia State Legislature approved the use of such slot machines and since 2018, they have seen a steady rise in popularity. The slot terminals at Rosie's are operated by the same company that is currently running slot machines at Colonial Downs racetrack located in New Kent County and a portion of those proceeds are devoted to the purses for races at Colonial Downs as a way to boost the horse racing industry in Virginia. Gamblers in the state have responded positively to the machines in places where they are active. At Colonial Downs off of Midlothian Turnpike in Richmond as well as in Winton and Hampton, patrons have helped make the HHR slots a Virginia success story. Revenues are up and in November the machines paid out total winnings of $155 million of roughly $170 million wagered.
Competition Abounds
This is an encouraging sign for Rosie's which will face top competition from larger casinos in the area. Currently, Virginia residents can travel a short distance across the Potomac River to MGM National Harbor. Located in Maryland, it is one of the biggest casinos on the east coast. Alternatively, patrons can travel to West Virginia to place their wagers at the Hollywood Casino at the Charles Town racetrack. Both locations are a short travel distance for Northern Virginia residents and offer additional casino amenities such as table games.
Rosie's will see increased competition in the coming months as well. The Virginia Lottery is set to approve a number of commercial licenses for online sports betting. In addition, four other Virginia cities have voted to open new casinos which are expected to launch in the next few years.
Optimistic Outlook
Management of Rosie's is confident that they will be able to offer Virginians an enticing gambling location. Rick Casagrande is the general manger for Rosie's Dunfries location. "In every jurisdiction, the people that come out are looking for an entertainment option that's clean, safe, and friendly. And we provide that," he said.
Mayor of Dunfries, Derrick Wood, and other town officials took a tour of the new facility as the final slot terminals arrived and the finishing touches were added. Wood stated that he was impressed with the effort Rosie's is making. He is also optimistic for what the facility will do for the community. Rosie's will be hiring over 100 local residents at $15 per hour and has made substantial commitments to assist local groups like the Boys and Girls Club.
In 2019 voters in Dunfries passed gambling 468 to 306. Mayor Wood suspects that those opposed to the expansion will remain so despite the new Rosie's facility. "Everybody ain't gonna like you, everybody ain't gonna like me, and everybody ain't gonna like every business that comes to town," he said. However, some opponents could be won over as they start to see the improvements that Rosie's plans to bring to the town he said. Rosie's will be the biggest employer to establish itself in town in a few years. Conservative estimates place increases in revenue to the town at roughly 20% to start. "Dunfries has always been a place people drive through. Now we are trying to create a sense of destination," says Wood.
Senator Scott Surovell has supported the town's plan to bring Rosie's Gaming to Dunfries. He stated that while he does not personally gamble, he is excited at the prospect of keeping gamblers in the state. "From where I live, I can walk a few blocks and look out over the Potomac and see $150 million in Virginia money going across the bridge. I've always said I'd be supportive of keeping Virginia's money here in a responsible way."