The game of roulette has returned to Massachusetts casinos. However, in light of the Covid-19 pandemic, strict guidelines of play will be enforced. The Massachusetts Gaming Commission ruled on the reintroduction of roulette in a meeting this past week. The decision was to allow roulette to return on the gaming floor with the addition of a number of changes to the rules of the game in order to limit patron contact. The Commission approved roulette at the MGM Springfield and Encore Boston Harbor.
The Commission allowed Massachusetts casinos to reopen in July. While most games were live, poker, craps, and roulette were not allowed back on gaming floors. According to Loretta Lillios, Interim Director of the Massachusetts Gaming Commission's Investigation and Enforcement Bureau, both the MGM and Encore made requests to the Commission to reintroduce the games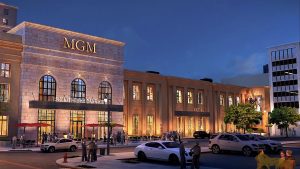 after three months of safe casino operation.
"We have worked with them to identify health and safety measures that could be implemented with roulette and in doing so we tried to hew closely to the measures that the commission already approved for the blackjack-style games," said Lillios. "One of our obligations with a request like this is that we consult with the Department of Public Health and the department raised no objections to the reintroduction of the game and it communicated that it is comfortable doing so in conjunction with the minimum safety measures outlined here."
The Department of Public Health also considered the fact that roulette is offered in casinos in Rhode Island, Connecticut, New York, and New Jersey. That means that Massachusetts residents do not have to travel far from their home state in order to play the game.
New Rules Being Introduced
In order to offer roulette, the casinos must adhere to a set of safety guidelines set forth by the commission. Roulette will be cap at a maximum of three players. Each player will be required to be seated and will be separated by plexiglass. Bystanders will not be permitted to stand around the table and spectate. Encore will offer 16 roulette tables and MGM will be permitted to offer seven tables. However, neither casino will be permitted to raise their occupancy limit with the addition of the game.
Another significant rule change will be a prohibition on bets placed once the ball is in motion. According to Bruce Band, Assistant Director of the Investigation and Enforcement Bureau, classic roulette depends upon the dealer's ability to hear and process verbal bets once the ball is placed in motion. With the Covid-19 health precautions, namely masks and plexiglass, the commission was concerned this would make verbal bets more difficult. Therefore, the decision was reached to simply eliminate these types of bets for the time being.
Commissioners took a positive stance on reintroducing the game. "I think we now have a history of watching our licensees and patron compliance," said Commissioner Eileen O'Brien. "The numbers are not static; they are trending in the opposite direction of what we would like to see. But on balance I think if you look at the integrity of the games, the protections in place, the lack of increase to occupancy, the additional rehires that would occur as a result, I think it is an appropriate time now to discuss this and vote on it as a commission."