Plans for the new casino project in Biloxxi, Mississippi were disclosed this past week and they have caused quite a buzz. The project is proposed to cost roughly $1.2 billion in order to bring the UMUSIC Broadwater Hotel and Casino to fruition. This past Thursday, project leaders disclosed a construction timeline and a list of some of the amenities to which patrons can look forward.
Andrew Gilich, Mayor of Biloxi, is confident that the new casino will boost tourism and could bring as much as two million visitors to the city per year. The project is expected to break ground next year and developers hope to have it completed by 2023. Dakia Global U-Ventures has partnered with the largest music company in the world, Universal Music Group to develop the UMUSIC Hotel and Casino project. The pair have plans to bring similar projects to Atlanta, Georgia and Orlando, Florida as well.
What To Expect
Robert Lavia is the Chairman of Dakia Global U-Ventures. He disclosed some of the amenities that visitors can look forward to in the new hotel and casino. The project as a whole will support roughly 1.000 construction jobs and a further 2,500 in permanent positions once the facilities are completed. The hotel will include approximately 1,200 rooms with music themed décor and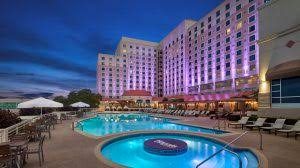 high-end restaurants. In light of the Covid-19 pandemic, Lavia made a point to highlight the high level of security and health protocols already developed to keep operations at the UMUSIC Resort moving smoothly regardless of what pandemic, if any, may hit in the future. In addition, the facility will host a 12,000-seat entertainment auditorium, an eighteen-hole golf course, and a new marina.
Several details, including plans for the resort's casino, were purposely withheld says Lavia. Project leaders were eager to release as many details as possible while maintaining a high level of anticipation and surprise amongst future visitors. "Wherever you look, you'll be wowed," said Lavia. The music venue looks to be the centerpiece of the hotel. It will feature a grand, high-wind, glass exterior. Inside, the venue will feature a massive video screen, referred to jokingly as "visible for miles."
An Attractive Location
"Mississippi is the birthplace of America's music, BB King and the Blues, Elvis and Rock and Roll, Jimmy Rodgers and Country," says Governor of Mississippi Tate Reeves. He is very optimistic about the coming resort which he says represents the "bold projects" Mississippi needs. According to him, the UMUSIC Hotel and Casino represents an investment in the state's people and future.
When asked why Biloxi was chosen for the first UMUSIC location, Robert Lavia echoed the sentiments of Governor Reeves and said, "[because of] the rich, powerful music that has come from the region." He went on, "our intention is to create a world class facility to bring some of the greatest talent, both regionally and internationally." The resort is being designed to attract big name talents with state-of-the-art technologies like holograms and artificial intelligence. In addition, these technologies will be available for hopeful music talents through a proposed incubator program. This program will help to elevate local musicians, sound engineers, and start up companies in the musical field.
The passion that the project heads feel for the local community and Mississippi at large was summed up by Mr. Lavia. "From the minute you step in Biloxi you feel at home. That warmth, that welcoming feeling is what both our national and international guests want to discover here."