The same type of facial recognition software that has become common in the smartphone industry may be coming to Las Vegas casinos. Konami Gaming Inc., who is already responsible for a large number of slot machine and video gaming terminals throughout Las Vegas, is currently developing slot machines with a small front facing camera to "recognize" patrons after they have registered their photo with the casino's rewards desk. The same type of technology is also being developed for table games with live dealers. The new technology was introduced earlier this month at the Global Gaming Expo, and it could mean that changes are on the horizon for casinos throughout the country.
Why Facial Recognition?
At first glance, the sudden introduction of facial recognition software in casinos may seem unnecessary or even excessive, but the goal is to ultimately maximize the customer experience. NBC Las Vegas revealed that Konami Vice President Jay Betsch believes these changes are a step in the right direction in catering to customer needs. Facial recognition software will access the database of players who hold rewards cards at the casino. As a player sits down to play, their face will be scanned to help them accumulate rewards points, rather than having them insert their card into a slot machine or giving it to a dealer at a table game. This change means that players will be more likely to receive the rewards they have earned, lest they forget to insert their card.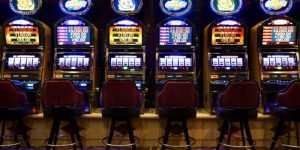 In addition to the convenience of being able to sit down and enjoy games while racking up rewards points, casinos also believe that the new software can help enhance security. Suspicious activity could be flagged through the facial recognition software, and it could also be used to identify anyone who has been barred from the casino. These applications are tertiary to the use of facial recognition for rewards players but may still be applied once rules and regulations for the software have been set.
Concerns Surrounding Facial Recognition
The introduction of facial recognition technology in casinos has been met with mixed reviews. Facial recognition technology has been popping up across a variety of industries throughout the past decade, and its success hinges on customer acceptance. Often, customers feel that the use of such technology is an invasion of privacy. There exists the idea that such a technology gives customers the feeling of constantly being watched or kept under surveillance. Another concern stems from lawsuits against casinos in other areas of the country who have already implemented facial recognition technology.
In Illinois, two lawsuits have been raised, challenging the application of this technology in casinos. Both Caesars' Harrah's Casino and Penn National's Hollywood Casino have been accused of breaching the state's Biometric Information Privacy Act. The act requires anyone using facial recognition technology scans to gather customer information to notify those customers via a written policy. In failing to do so, the two casinos violated the law, causing customers to file the lawsuit. With the same technology looming on the horizon for Las Vegas casinos, it would be wise for them to consider the rights of the customer.
Projected Launch
To avoid some of the controversy surrounding the new technology, Konami's program will be designed so that customers may have a choice. Players will be able to choose whether or not they would like to continue using their loyalty cards or begin having their faces scanned as they play games throughout the casino. Additional regulation and guidelines must be considered before implementation, in order to avoid lawsuits similar to the ones that have come about in Illinois. Bertsch says that the way in which the technology is applied will ultimately be up to each individual casino. Konami's new technology is expected to be ready for casinos throughout Las Vegas sometime in the next six to nine months.