WMS is a slot-maker known for its simple yet evocative themes and Bier Haus is no exception. As the pronunciation and spelling of the game's name might suggest, the theme with this game is a traditional German bier haus, which most English-speaking people might refer to as a pub.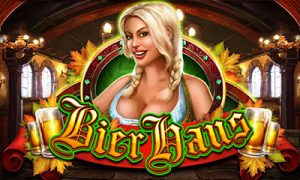 Both the sounds and imagery of Bier Haus drive home the German theme. Like a lot of WMS slots, you are liable to post dozens of winning spins, but without triggering the bonus round you may end up getting kicked out of the bier haus once your pockets have run dry.
Bier Haus may not exactly be Williams' most attractive offering, but it is available at both brick and mortar and online casinos. The following will discuss and elaborate on everything you need to know about this video slot game.
Volatility of Bier Haus
Bier Haus is a five reel 40 payline slot that is regarded as being fairly volatile due to the fact that there can be long dry spells that precede any sizeable winnings. Generally speaking, you should be prepared with a decent-sized bankroll before playing Bier Haus. The official return to player (RTP) of Bier Haus is right around 95%, but without triggering the free spins bonus you may see your balance shrink to nothing.
With all of this being said, the free spins bonus can turn a poor round into a winning one in a matter of a few seconds.
Variations of Bier Haus
Though you will surely find other German/Oktoberfest slot games at online and brick and mortar casinos around the world, there are no official variations of Williams' Bier Haus game. What's more, the game is available online as well as at physical casinos and there will be no differences between the two games. As is usually the case, the live version of the game is a bit more exciting and immersive than what you will find online, but that is more or less the lone difference.
Symbols and Paytables in Bier Haus
There are four different types of symbols present in the Bier Haus slot game and as you might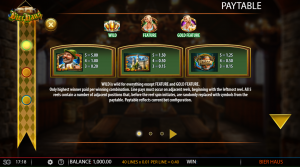 expect, they are all dripping in German influence…and beer. All of the symbols you will see in Bier Haus will be discussed and explained below:
German Man/City/Bier Barrel—Though the German Man is worth more than double the other two, these three symbols comprise the most valuable available during Bier Haus' base game.
Stein/Accordion/Acorns and Leaves—These three symbols are all worth more or less the same amount. They are the enemy as their existence rarely brings about decent winnings.
Spade/Heart/Club/Diamond—Standard card-ranking symbols are the least valuable in the game.
The other symbols worth talking about are, in their own way, the most valuable in the game. The Feature symbol (German Bier Maid with green background) will trigger the Free Spins bonus so long as five of them appear on adjacent reels, beginning with the leftmost reel. The Gold Feature symbol (German Bier Maid with purple background) is a bit more valuable than the standard Feature symbol, even if it functions in the same way. The Wild symbol is indicated by three pints of beer. Persisting Wilds are the final symbols worth being talked about, and they will be discussed in more detail below.
Bier Haus Slot Bonuses
As we briefly mentioned above, the Free Spins bonus is your key to big wins. Unlike other slot games, the Free Spins Bonus in Bier Haus is not so straightforward. While this may sound daunting, the complexity of the bonus round lends itself to larger winnings for players who trigger the bonus. We will discuss more about how the bonus round works below, but first you should know how the Free Spins Bonus is triggered. Quite simply, a player will earn at least five free spins when they scatter five or more Feature symbols on adjacent reels, beginning with the leftmost reel. For the sake of triggering the free spins, the Feature and Gold Feature symbols are the same. In other words, if there are three Gold Feature and two Feature symbols scattered on adjacent reels beginning with the leftmost reel, you will be awarded the bonus round the same as if all five symbols were identical.
How Bier Haus Bonus Round Works
By scattering just five Feature and/or Gold Feature symbols on adjacent paylines, five free spins will be awarded. Making things a bit sweeter is the fact that every additional Feature/Gold Feature symbol above the initial five will add five more spins to your free spins total. This means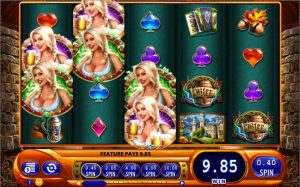 that players could, theoretically, earn a free spins bonus that gives away a whopping 80 free spins.
If you do have a Gold Feature symbol present as part of the five symbol bonus-triggering combination, that symbol will be replaced by a Persisting Wild that will lock in place throughout the duration of the free spins.
Bier Haus Bonus Round Retrigger
Though an alternate set of reels is used during the free spins bonus, you are still able to retrigger the bonus round by way of five Feature and/or Golden Feature symbols on adjacent paylines.
Play Bier Haus Slots Online
Like many of Williams' games, you can find Bier Haus at many online casinos. Because this is not exactly the most popular offering from WMS, it is not going to be available at all online casinos, but you can rest-assured knowing that it will be in the lineup of most sites that boast a healthy number of WMS games.
Click Here for Our TOP 2023 USA Online Slots Site!