In this day in age, classic reel slots are increasingly being replaced by video slots. Whether this is a good or bad thing is a matter of personal opinion, but the fact of the matter is that you will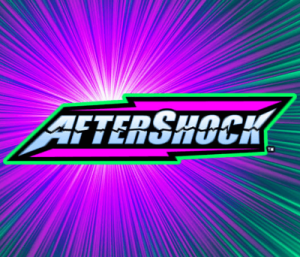 regularly see more video slot games on the floors of casinos than reeled slots. With all of that being said, there are some exceptions, and one of these exceptions is the presence of Aftershock, a game produced by Scientific Gaming, the parent-company of WMS Gaming.
In many ways, Aftershock combines the standard gameplay experience of reeled slots—with its five paylines and functioning lever—with the modern experience of video slots. Driving this point home is the fact that this game is also available for real money play online. Found in high limit rooms as well as elsewhere on the floors of casinos, Aftershock is a clear fan favorite.
Volatility of Aftershock Slots
Because the game's bonus feature—which awards up to seven free spins—is triggered randomly throughout base game play, we have to say that the volatility of this game is high. This is especially true when you consider that standard wagers sit between $1 and $5. As for the base game itself, it boasts a higher return to player (RTP), sitting right around 95%. As you can expect with an RTP so high, many of these "wins" do not even cover the amount wagered on the spin.
During the base game, you may win more often than not, but it will be difficult to keep yourself afloat without being the lucky recipient of the Aftershock Bonus. The Double and Triple Aftershock symbols offer the possibility of large wins from a single spin considering they will double and triple winning combinations. Having said that, lining up the Aftershock symbols in winning paylines proves to be more of a frustrating experience than anything else. In other words, it doesn't happen all that frequently.
Variations of Aftershock Slots
A variation you will find only online is referred to as Aftershock Frenzy. Save for the existence of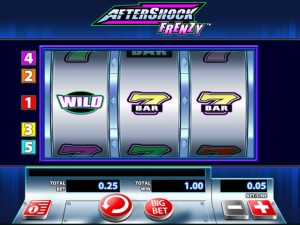 a progressive jackpot, it is almost the same exact game as the one you will find at brick and mortar casinos. Another difference between Aftershock Frenzy and the standard game is the Big Bet Feature, where raising your bet guarantees that the Aftershock Frenzy Feature will be triggered at some point.
As for how the game itself looks and feels, Aftershock and Aftershock Frenzy are hardly different. Unfortunately, playing Aftershock Frenzy online means that the rumbles and shakes that casino players feel during the bonus round will be left to the imagination.
Symbols and Paytables in Aftershock
Aftershock is, by all accounts, a classic reeled slot game. As a result, the symbols you encounter will resemble those of most other classic reel slots, with 7s and Bars dominating the landscape. In order to maximize your winnings, you will want to see a lot of (Double and Triple) Aftershock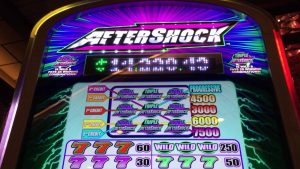 symbols as well as Wild symbols within winning paylines. A full listing of the symbols you will see while playing Aftershock can be found below:
Wild—The Wild symbol replaces all other symbols besides the Double and Triple Aftershock and is, by far, the most valuable.
7s—There are four different types of 7 symbols and their value differs only slightly. From most to least valuable, you will encounter a Red 7, Green 7, Pink 7, and a Yellow 7 with a Bar symbol across it.
Bar—The Bar symbol is the least valuable in the game.
The other symbols that we have mentioned a few times up to this point are the Double and Triple Aftershock symbols. You can think of these as glorified Wilds, because they substitute for all other symbols and will multiply a winning combination. If a single Double or single Triple Aftershock symbol is present in a winning combination, the win will either be doubled or tripled. Things can get a little bit better, because two Double Aftershock symbols will see a winning combination multiplied 4x. Finally, a Double Aftershock and Triple Aftershock present within a winning combination will see the win amount multiplied 6x.
Aftershock Slot Bonuses
The only bonus you will encounter is the Aftershock Feature, which consists of anywhere from one to seven free spins, all of which will be guaranteed winners. The Aftershock Feature is triggered randomly and the number of free spins is also determined without any discernable rhyme or reason.
How Aftershock Bonus Round Works
The Aftershock Feature is what can only be described as a standard free spins bonus with the added touch of every single free game being a predetermined winner. Being that there is no winning combination that triggers the bonus and no standard number of free spins, this particular bonus round is an open and shut case.
The only other item worth mentioning as it relates to the Aftershock Feature has to do with Double and Triple Aftershock symbols. How these symbols work within the Feature are no different than how they function within the base game, however if they appear during the Feature they will remain in a fixed position and be pushed into a position adjacent to the center payline.
Aftershock Bonus Round Retrigger
Since there is no specific combination of symbols that triggers the Aftershock Feature in the first place, it follows that there is no way to retrigger the bonus by way of one of the free spins.
Play Aftershock Frenzy Online
As was mentioned above, the Aftershock Frenzy version of this game is the one that is available for real money play online. There are minimal differences between this and the version you will find at physical casinos, the main standout being the "Big Bet Feature." Like most reeled slots, this is not exactly the most popular online slot title, but will be more than likely found at online casinos that boast healthy WMS/Scientific Gaming libraries. Finally, it is also worth mentioning that a lot of what makes Aftershock unique—the physical shaking of the machine, loud sounds, and bright lights—is lost when played online.
Click Here for Our TOP 2023 USA Online Slots Site!