Multi Strike video poker is a multi-hand game. It plays unlike any others. There are four lines of hands in standard Multi Strike game. There is a 16x Multi Strike that adds a fifth line. There is an unusual Five Play Multi Strike version, too. We will go over each of these games in this article.
Multi Strike video poker is only offered at live casinos. You will not find it at any online casinos.
Differences Between Multi Strike and Traditional Multi-hand Video Poker
In traditional multi-hand video poker, the player is dealt five cards. There is a decision of which ones to keep. The cards that are kept appear in all hands. That is not the case with Multi Strike video poker.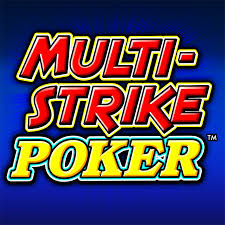 In Multi Strike, the player makes a five-coin wager on four or five hands, depending on whether it is Multi Strike or the 16x version. The latter has five lines. This makes the bet 20 coins on the standard game and 25 coins on the 16x version.
The player is dealt one hand at the bottom. There is a typical choice involving which cards to hold and which to discard. Once this is done, the discards are replaced. If the player made a winning hand, the board goes to the next level, which pays 2x the normal pay table. If the 2x level in a winner, the next level occurs, which is 4x. The top level in the standard Multi Strike game is 8x. The 16x version has a fifth level that pays 16 times.
If a player loses a hand at any level, and did not get a free ride, the hand ends. All winning hands are paid. Free ride hands that did not generate a winner do not get paid.
In games without a wild card, players must make a pair of jacks or better to continue. In Joker Poker, it is a pair of kings or better. In Deuces Wild, it is three of a kind.
A free ride may appear. This means that the player will move up to the next level even if a winning hand is not made. This occurs about once every 12 times. The exact amount is disclosed in the game's help screen as it varies by title.
Five Play Multi Strike Video Poker
Five Play Multi Strike Video Poker has four lines of multipliers. Each has five hands. The player must bet all five hands per line, making a total of 100 coins per hand. The player starts with a standard video poker hand to draw. This hand is held across five hands. Any of the five hands that makes a winner travels to the next multiplier tier.
For example, if the player holds a bare ace, and makes a pair of aces in two of the five hands, only those two hands advance, unless that row had a free ride. A free ride on higher levels does not reopen hands that failed to make winners in earlier rounds.
How to Play Multi Strike Video Poker
To start a hand of Multi Strike video poker, choose the denomination that you would like to play. The choices are typically nickel, dime, quarter, half-dollar and dollar. Note that the pay tables tend to improve substantially at the quarter denomination. Check out the pay tables to ensure that you're getting a good deal.
Next, you will choose your preferred game. The typical options are Jacks or Better, Bonus Poker, Double Bonus, Double Double Bonus, Triple Double Bonus, Bonus Poker Deluxe, Deuces Wild, Deuces Wild Bonus and Joker Wild. After this, you will be taken to the game screen.
You will need to place a bet at this point. You may wager on up to four lines in the standard game or five in the 16x version. You will need to bet five coins per line. In Five Play Multi Strike, you will need to bet a total of 100 coins to cover all 20 hands.
We recommend betting all available lines. Otherwise, there is no point playing the game.
Once the bet is established, you will receive five cards. You will choose the ones you wish to keep by clicking the card on the touchscreen or using the corresponding button below it. Click draw to receive discards. If your hand is a winner, or you get the free ride feature, you will move onto the 2x level.
This pattern repeats until you either lose a hand without triggering the free ride, or you go all the way to the top level. Each winning hand is paid based on its multiplier. The first level is 1x multiplier, the second is 2x, the third is 4x, and the fourth is 8x. The 16x version has a fifth line with the 16x multiplier.
To play another hand, simply click deal. To cashout, click the cashout button and a ticket will get printed. You may use this in another machine or turn it into cash at the cage or at a redemption kiosk.
Multi Strike Video Poker Strategy
There is no difference between the Multi Strike strategy and the one that should be used in the traditional versions of the games offered on it.
How to Increase Your Return at Multi Strike Video Poker
Multi Strike video poker is only offered at live casinos. To get perks beyond free drinks, you will need a players card. You can get one at the players center with a valid photo ID. This will track your play and award slot points based on it. Slot points can be converted into comps or free slot play. You may also receive mailers based on your play that include these comps as well as free hotel rooms.
Click Here for Our TOP 2023 USA Online Slots Site!