Casinos, hotels, and resorts were forced to close their doors in March as the threat of Covid-19 rapidly spread throughout the country. The unprecedented closure of these businesses raised many concerns and questions surrounding the possibility of reopening in a world that has been changed significantly by the looming threat of the infectious disease. Now, after months of businesses being closed, stay-at-home orders, and increased health safety measures, casinos throughout Las Vegas are reopening their doors to welcome back customers. The reopening effort includes a number of new rules and regulations to help monitor and prevent the spread of the coronavirus, as businesses try and weigh the pros and cons of reopening.
Reopening in the "New Normal"
Throughout the country, states have slowly seen a decrease in the number of new coronavirus cases, which has resulted in a push for businesses to reopen. Unexpected closures have led to some of the highest unemployment rates the country has ever seen, as well as a loss of millions of dollars in revenue for businesses who have been forced to close. For Sin City, this means that its greatest source of revenue has been M.I.A. for 78 days. Now, with number of new coronavirus cases on the decline, these businesses are launching a plan to welcome back customers in a safe environment.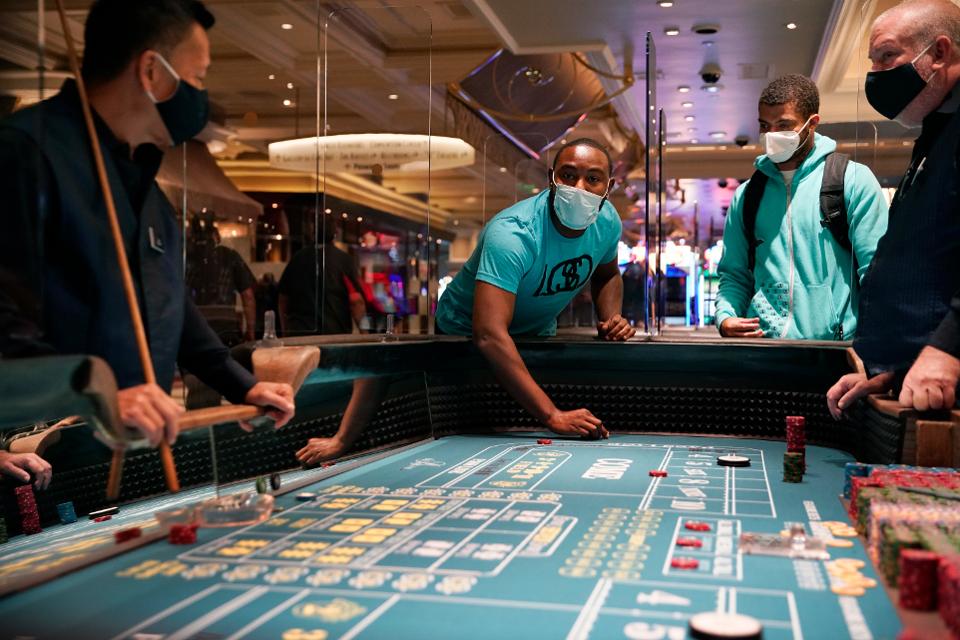 In early June, casinos on the Strip reopened their doors and welcomed large crowds with a water show at the Bellagio Hotel and a new motto for visitors: Think dirty thoughts but keep your hands clean. Guests returned to a number of significant changes put in place at their favorite casinos. Table dealers are separated from players by Plexiglas, dice are rinsed in sanitizer after every throw at a craps table, guests are required to have a mandatory temperature check before entering, and customers are strongly encouraged to wear face masks. Officials believe that these measures will help them get back to business as usual, while ensuring the safety of the guests that come play at their casinos.
A number of other unexpected changes were part of the reopening process as well. Many casino resorts decided to waive parking fees and may continue to waive these fees for the rest of the year. Customers are also being greeted with goodie bags, which may include face masks, sanitizer, and a tool they can use to open doors and pus elevator buttons without having to touch the surfaces directly. Other attempts to create a contactless customer experience include scannable QR code menus and mobile app hotel check-in.
Governor Steve Sisolak has expressed his confidence that the city is taking every precaution possible during this reopening process. Sisolak was quoted in the New York Times saying, "I don't think you'll find a safer place than Las Vegas," which has proven to be more than enough encouragement based on the wave of visitors the city has seen since reopening their doors.
Impressive Crowds
The reopening seemed to be a welcome escape for people who have been living under strict social distancing guidelines for the past couple months. Hotels and casinos were busier than expected, which has led businesses to accelerate their reopening plans in the coming weeks.
Although the large crowds may be a welcome sight for business owners, it could mean danger for customers in terms of an increase in coronavirus cases. Casino floors were full of customers who were not wearing face coverings or practicing proper social distancing; two things that are included in the guidelines for reopening but have proven to be a difficult rule to reinforce. Despite Sisolak's initial optimism about the reopening, he does plan to reverse the reopening if it appears that the state has seen a steep increase in the number of coronavirus cases.
Over the next few weeks officials will be able to analyze whether or not the reopening has led to the spread of coronavirus. If so, businesses may have to introduce additional safety precautions to protect customers, or potentially close their doors once more. It seems as though all parties are willing to do everything they can to keep the doors open; time will tell whether or not the current safety measures will be enough.