The gambling industry in the US saw positive results at the polls this November. Three states approved measures authorizing legal sports gambling. In addition, three more states approved and/or expanded their casino gambling market.
Sports Betting
South Dakota, Maryland, and Louisiana authorized ballot measures to introduce sports gambling into their states. With these additions, more than half of the states in America will have some form of legalized sports betting. This is no small feat after less than three years have passed since the US Supreme Court ruled the practice no longer illegal under federal law.
Sports gamblers likely will not be able to place legal bets in their respective states until at least 2021 and possibly into the year 2022. The state legislators in South Dakota, Maryland, and Louisiana are now tasked with creating a legal framework for the industry. The next steps will be rules and a regulatory structure for licensing private operators. Only then will legal sports books start taking their first bets.
Casino Expansions
Virginia
The state of ? Voters in Bristol, Danville, Portsmouth, and Norfolk, Virginia approved measures bringing casino gambling to their communities. "We look forward to fulfilling the trust the voters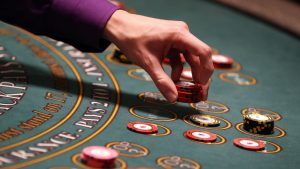 have placed in us by bringing 1,300 good-paying jobs, tourism dollars and economic development to the city, and we are incredibly excited to begin construction," said Tom Reeg, Chief Executive Officer of Caesars Entertainment, of the successful Danville proposal.
Colorado
Colorado has expanded the types of games allowed on its casino floors while at the same time eliminating certain limits on wagers. Casinos in Black Hawk, Cripple Creek, and Central City will be introducing new games on their gambling floors. Baccarat, Keno, and a spinning wheel will all be available for state residents to play. In addition, state casinos are eliminating betting limits which restricted maximum bets to $100.
Nebraska
Nebraska authorized a measure which will add casino gambling in its horse tracks. Casino games will be added to horse racing facilities at Horsemen's Park in Omaha, Lincoln Race Course, Fonner Park in Grand Island, Ag Park in Columbus, and Atokad in South Sioux City. Supporters of the state's casino expansion say that taxing the industry could add nearly $65 million annually to state coffers. That revenue is slated to go to property tax relief for state residents.
A Positive Future
"It appears that Americans are becoming increasingly comfortable with legalized gambling," says David Schwartz. Schwartz is a gambling historian at the University of Nevada Las Vegas. He went on, "the addition of casinos in Virginia and racetrack casinos in Nebraska indicates that casino-style gambling is on the upswing as well. We have reached a point where voters seem satisfied that legalizing gambling will offer positive returns for their state."
Leaders in the country's gaming industry are optimistic about what these expansions mean for the future of the gambling market. The American Gaming Association is the main trade group for the casino industry. Bill Miller, the AGA's Chief Executive Officer, praised the decisions of voters in expanding gambling legislation. "As a result of successful ballot measures in six gaming states, more Americans will have access to much needed job opportunities, dedicated tax revenue, and safe, regulated entertainment options closer to home."