As far as states in the Eastern US are concerned, Virginia is lagging behind many of its neighbors in one very noticeable way. Despite its massive population, high number of tourists, and proximity to the halls of power in the United States, Northern Virginia—and Virginia in general—do not have a casino to call their own. Instead, gamblers who touch down at Washington Dulles International Airport are forced to travel to Maryland or West Virginia in order to play real money slots and table games.
One developer in Fairfax, Virginia is looking to change that by building a large-scale casino resort within a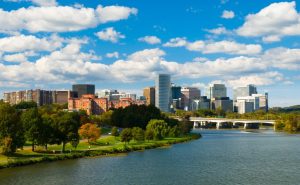 stone's throw of Washington DC. While this idea, like so many involving casinos, looks to be a good one on paper, there is a lot more heavy lifting needed to be done before anyone is gambling in Northern Virginia.
Battle for Approvals Begins
Comstock is the name of the real estate development company behind the idea to bring a casino to the Wiehle-Reston East Metro area, which is located just minutes from Dulles Airport by either car or metro.
For perspective, the proposed casino location sits roughly 10 miles from downtown DC, which is about the same distance that MGM National Harbor is from downtown. The key difference between the proposed location and National Harbor is the fact that passengers leaving Dulles and heading into DC will quite literally have to pass the newly proposed casino. National Harbor, on the other hand, is more out of the way, especially for those arriving into Washington DC by air.
Getting Virginia Lawmakers on Board
This all sounds like a great idea, but the reality of the matter is that Northern Virginia will probably be waiting a while before any construction begins. The reason for this is due to the fact that first, Comstock must convince the Virginia General Assembly to approve the plan. This may not seem like a big hurdle at first, but when you look at Virginia's politics it becomes easy to see why Comstock may not have such of an easy go of things.
You see, Northern Virginia and Southern Virginia might as well be two different states. On its face and at a very high level, Comstock's challenge is going to be to convince lawmakers from more rural areas of the state to vote in favor of the casino proposal. Historically and spanning many different issues, this is a task that is much easier said than done.
If and when Comstock can get the approval of Virginia lawmakers, it will then be up to local voters to determine whether a casino can exist in Fairfax County or not. The early indications are that Comstock will not face nearly as much pushback when it comes to local voting, but we are still a long way from even considering that outcome.
What's Next?
If all goes to plan and the proponents of the Fairfax, Virginia casino bill remain in office after the upcoming November elections, the bill should be back on the legislative agenda in early 2024. At that point the legislation will go through committees and, with luck, will be voted upon. A lot of things need to go right in order for this to happen, but local lawmakers are hopeful.
With any luck, the residents of Fairfax, Virginia will have a better idea of whether or not a casino will be coming to town by springtime next year. As we have seen time and time again in other states though, that projected timeline is likely to be pushed back continuously.