Despite shutdowns in many different industries across the state, Native American casinos in Southern California are able to stay open to patrons. This past week, the Agua Caliente Band of Cahuilla Indian Casino in Rancho Mirage was open and bustling with customers playing a wide variety of games and enjoying the facility's many dining options.
Casinos Remain Open
The Morongo Casino Resort and Spa, located in Cabazon, was running several dining promotions in celebration of its 16th anniversary. In Highland, the San Manuel Casino stated on its social media platforms that it had decided to stay open and felt confidently that the decision was the right one in light of the safety protocols it had in place. The Fantasy Springs Casino in Indio went as far as to continue to host live outdoor music despite live music events being restricted throughout the country.
The decision to enact the latest round of Covid-19 related shutdowns in California have come due to the severe increase in infections and the low capacities in the state's intensive care units. The new order, in effect for a three-week period, will cover most of the lower half of California. Californians are prohibited from any gatherings. Grocery stores in the state will be reduced to a 35% capacity. Restaurants and bars are forced to shutter their doors. In addition, churches will be forced to conduct their services outside.
However, as sovereign nations, Native American tribes are not legally required to adhere to the California stay at home order.
Indoor Congregation Equals a Hotspot
The state has seen six individual outbreaks of cases occurring at the Riverside County casinos and officials confirmed that the highest numbers of outbreaks locally have come from grocery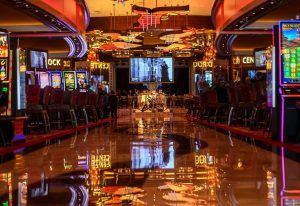 stores where people are most likely to congregate. But experts in the health industry have expressed concern over the continued operation of casinos. "In my opinion, any crowded indoor activity is a terrible idea at this point," says Juliet Morrison, a virologist at the University of California Riverside. She went one, "we are in a pandemic, and we are already seeing new and higher cases of Covid-19. So I don't think they should be open at all."
Clifford Trafzer is a professor of American Indian Affairs at the University of California Riverside and agrees with Morrison about the severity of keeping casinos open. "I believe in tribal sovereignty; I also believe all people of the United States have a civic duty to join in the nationwide fight against Covid-19. This is a war against a virus and every citizen must do their part to fight our common enemy."
Varied Approaches
Earlier this year, as the pandemic made its first sweep across the southern California region, all of the state's tribal casinos participated in the voluntary shutdowns. Many expressed a willingness to help stop the spread of the virus despite the potentially crippling fallout of a lengthy shutdown. However, since reopening, each of the state's tribal casinos has taken a varied approach to health and public safety protocols.
The Agua Caliente Rancho Mirage has elected to continue to open its spacious, outdoor function area for private events and meetings. The East Valley Republican Women Federated hosted a lunch there in early November and then an election night party as well.
Fantasy Springs, owned by the Cabazon Band of Mission Indians, has hosted live concerts several nights a week, albeit with mask and social distancing protocols in place. In addition, the casino and concert venue have instituted a 50% capacity restriction. Fantasy Springs also opened their special event center to be used as a Covid-19 testing site. AS such, all of the casino's employees have been tested weekly for the virus. "The Cabazon Band of Mission Indians enjoys sovereignty, just like all tribes do," says Michael Felci, the Public Relations Manager for the casino. "However, our guests, our employees are obviously the most important thing – their health, their safety. So we're following the news, we're getting the latest reports just like everybody else. Everything we've seen up until this point has not looked promising for large indoor gatherings."
A Regulatory Framework
The Indian Gaming Regulatory Act sets a "public health and safety" requirement to every tribal gaming ordinance enacted by a tribe. The National Indian Gaming Commission will not approve a casino's ordinance unless a health and safety provision is included. Meaning that there are "health and safety standards that the tribal casino and management must adhere to," says Michael Anderson, founder of Anderson Indian Law located in Washington D.C. and former Deputy Assistant Secretary for Indian Affairs at the Department of Interior. "But there's essentially no role from the state of California in regulating that conduct."
As a federal agency, should the operation of a gaming facility threaten public health and safety, the National Indian Gaming Commission has the authority to issue a temporary shutdown order to the facility. During the current Covid-19 pandemic, the NIGC has issued guidelines for tribal casinos in line with current CDC recommendations for safe operation of business.
Katherine Spilde is a professor and chair of the Sycuan Institute on Tribal Gaming at San Diego State University. She has continually held that tribal governments are just as concerned with protecting public health and safety as all other levels of government. "Tribal governments have the same public health mandates that any government would have, which would be to protect their citizens and residents, protect their employees who come to work at their properties, and to, of course, protect guests who come to have an experience in Indian Country."
Time will tell if the recent outbreaks and continued rise in cases of Covid-19 in the state of California will force tribal governments to take more drastic action.