Up until about five years ago, Illinois did not have much in the way of legal gambling options available. There was no legal sports betting, online gambling did not exist, and brick and mortar casinos were only just being talked about. This week, Illinois gambling regulators granted Bally's a full license to operate at what was supposed to be a temporary location until 2026. The permanent license being granted means that gamblers can still enjoy what Bally's has to offer at the current Medinah Temple location until a full-scale, permanent gambling facility is constructed in the city's River West neighborhood.
Quick Action Taken by Illinois Gambling Authorities
The Medinah Temple location opened under Bally's name just this past September so it is surprising that a permanent license was granted with such speed. Last month, Illinois Gambling Board member Marcus Fruchter awarded Bally's with a temporary license that would allow them to operate at 600 N. Wabash Avenue for the foreseeable future. This temporary license was given while the gambling regulatory authorities decided on whether to pass Bally's plans for a massive gambling hub located elsewhere in the city.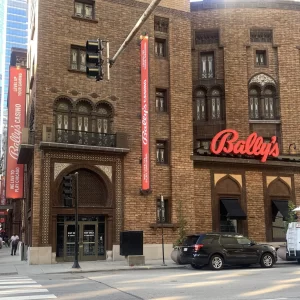 Since then, the authorities in Illinois unanimously voted to pass Bally's plans, and have slated the latter stages of September 2026 for when the casino will open its doors for business. The plan envisioned by Bally's is expected to cost in upwards of $2 billion and was chosen by Chicago Mayor Lori Lightfoot over three other major casino bids.
Now, Bally's has until September 9th, 2026 to complete its massive casino resort plan. Under Illinois state law, prospective casino operators can apply for a license that allows them to operate out of a temporary location for two years, with the option of a third year if needed.
Construction on Bally's Chicago casino is not expected to begin until the middle of next summer, when they take over the old Chicago Tribune printing plant that has since shut down.
What Does the Medinah Temple Location Have to Offer?
Since opening last month, the current, temporary Medinah Temple Bally's location has seen nearly 150,000 people come through the door. All told, the temporary location has more than 800 slot machines and more than 50 table games. To put into perspective just how big the permanent location will be, it is expected to have more than 3,000 slots and nearly 200 table games.
As is the case anytime a new casino is welcomed to the area, the primary concern for lawmakers is just how much tax revenue will be brought in from both the temporary and permanent Bally's Chicago locations. As it stands, the temporary location at Medinah Temple is falling well short of the tax revenue it promised former Mayor Lightfoot, but the outlook for the future is still positive. By the end of 2024, it is expected that Medinah Temple will create $34 million in tax revenue while the permanent location, once up and running, will create more than $200 million in annual tax revenue. For both the city of Chicago's gamblers and lawmakers, the move made by Bally's seems to be a win for everyone.