Resorts Online Casino New Jersey was founded in 2015 by Resorts Digital Gaming LLC about a year and a half after the first online casinos for gamblers located in New Jersey went live. This late bloomer is powered by NYX which is the same company that provides a software platform for the Mohegan Sun Online Casino. However, Resorts is hardly a newcomer to the brick-and-mortar casino market since they were the very first casino to legally operate outside of Nevada back in 1978.
Before you sign-up for an account on any online casino, you should make sure that it is safe and those who play on Resorts Online Casino can rest assured that this is the case thanks to the fact that they are licensed by the New Jersey Divison of Gaming Enforcement. Once you know a site is safe to gamble on then you can begin to examine some of the other important aspects of that online casino and compare them to the competition, which is exactly what we intend to do in the following sections.
Volume of Slots at Resorts Online Casino New Jersey
There are exactly 627 slot games listed in the slot section of the game library which easily makes it one of the most impressive in all of New Jersey. At the top of the page, you will be able to filter this selection either by alphabetical order or by how highly the game is rated, which can be noted by the number of stars that are filled in with the color blue underneath each game.
The most popular jackpot slot game is without a doubt Divine Fortune and it's easy to see why when you take a look at the Divine Fortune Hall of Winners that are posted on the Resorts Online Casino website. This list shows all of the latest big winners since November of 2017 and the jackpots that were won all range anywhere from $50,000 to $300,000.
One of the coolest features that these slot games have to offer is known as the "Gamble Feature" which allows you to double-or-nothing your winnings on any given spin. This adds an extra dimension to the slot play and makes things a lot more fun if you are feeling lucky and want to take some extra risks. You can also use this feature twice and try to multiply your original winnings by four!
Mobile Slots at Resorts Online Casino New Jersey
If you plan on accessing this online casino with an Android device, you will need to visit their website at www.resortscasino.com and scroll to the bottom of the page to find the "Download for Android" link. Conversely, if you have an iPhone or an iPad you can simply download the app from the App Store with ease.
Once you have downloaded the app and logged in to your account you will have access to over 500 different casino games from your phone. If you do not already have an account, you will still be able to make one from your mobile phone and you will also be able to make a deposit using your mobile account cashier.
Other Games at Resorts Online Casino New Jersey
Table Games
What sets this table games section apart from most other New Jersey online casinos is that they offer an excessive number of blackjack and roulette variations (nine of each). In addition, there are some popular stragglers such as Baccarat Professional Series, Let It Ride, Ultimate Texas Hold'Em, and Casino Hold'em Poker. All in all, there is a total of 23 different table games to choose from which is slightly more than what you would usually find in an online casino from the New Jersey market.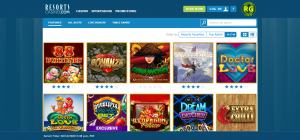 One of the best features of the blackjack games is that there is guaranteed to be a variation for players of all bankroll sizes. The Atlantic City Blackjack Single Hand Micro Limit game will allow you to wager anywhere from $0.10 to $10 per hand while the low limit variation will allow you to wager anywhere from $0.50 to $25 per hand. It would be impossible to find a site that beats these limits for low rollers, especially in the New Jersey online casino world.
Video Poker Games
If you are looking for any of the ten different video poker games on Resorts Online Casino New Jersey then you will have to look in the table games section of the game library. This is a below average number of video poker games for an online casino in the New Jersey area to offer. Some of the more exotic titles that you can expect to see here include Double Double Regal Poker, Triple Play Draw Poker Multi-Hand, Jester Poker, and Destiny Poker.
The two software providers that created these video poker games are Game King and Spin Games which is a very common theme among New Jersey online casinos. The stakes that are available will allow you to wager anywhere from $0.01 to $1.25 per hand in these games but we highly recommend wagering five credits no matter which stakes you are playing so that you can capitalize on the royal flush bonus.
Live Dealer Games
Surprisingly, there are 18 different live dealer games available here which makes it the top live dealer online casino in the New Jersey market by a very wide margin. These live dealers will facilitate your gambling adventure with a number of games such as Live Blackjack, Live Roulette, Live Auto Roulette, Live Lightning Roulette, Live Ultimate Texas Hold'em, Live 3 Card Poker, Live Sidebet City, Live Baccarat, and Live Dream Catcher.
More than half of this wide selection of games is available from 11 am to 3 am while the rest of the games are available 24 hours a day. If Live Blackjack is your cup of tea then you will love this section of games since there are up to nine different blackjack tables running at any given time.
Welcome Bonuses at Resorts Online Casino New Jersey
Those who are visiting Resorts Online Casino for the first time and have already made a new account are eligible to receive a 100% match deposit bonus for up to $1,000. It doesn't take a math genius to deduce that you want to earn the full bonus amount you will need to deposit exactly $1,000. This very lucrative welcome bonus is one of the largest that we have found in the entire New Jersey online casino market and the only catch is that you have 30 days to claim the bonus after you make your new account.
Like most other welcome bonuses, this one comes with a playthrough requirement that you must complete before you can withdraw any funds other than the ones you originally deposited. If you are wagering on slot games then the playthrough requirement is only 30 times the amount of the bonus funds, but if you are playing in any other game this playthrough requirement skyrockets up to 150 times the amount of the bonus funds. For instance, if you made your first deposit of $1,000 in order to receive the full $1,000 in welcome bonus funds from our previous example then you would need to make $30,000 worth of wagers to clear the bonus if you are playing slot games and $150,000 worth of bets to clear the bonus if you are playing any other game.
As an added bonus, if you are a new player and you add Resorts Casino on Facebook or watch out for the special free spins code on television then you will be able to claim 100 free spins. The games that these free spins can be used on are Abracardabra, Shields of the Wild, and Kingdom's Edge. You will only have seven days after making your account to claim these free spins and any winnings you earn from them will come with a 5x playthrough requirements. For instance, if you complete your 100 spins and you accumulate $100 in winnings then you will need to make $500 in wagers before you can withdraw any funds.
Other Bonuses at Resorts Online Casino New Jersey
The main promotion that frequent players on Resorts New Jersey will want to take advantage of is the Resorts Rewards program. As you play in the casino games you will earn Rewards Points which will eventually raise your VIP level to where you can win free show tickets, free personalized VIP hosts, free room upgrades, cash prizes and more. The five VIP tiers are bronze, silver, gold, platinum, and diamond and if you are already a regular on another legalized New Jersey online casino then you can email them a screenshot of your account from that other casino to upgrade@resortscasino.com and they will automatically upgrade you to gold tier.
You will also be able to trade in your Rewards Points for cash but the rate at which you can exchange them all depends on what level of the Resorts Rewards program you are on. For instance, a bronze tier player will have to spend 10,000 points to receive $10 in cash while a diamond tier player will only have to pay 2,220 points to receive the same $10 in cash.
All of the other bonuses on Resorts Online Casino New Jersey are daily, weekly, or seasonal which makes it tough to nail down exactly what they offer. The only patterns we see with these promotions are that they are constantly being cycled in and out of action and that they usually reward prizes such as double loyalty points, online gift cards, MacBook Pros, bonus dollars, and smartphones. If you want to receive texts about the latest promotions and bonuses you can text "PROMO" to the number 33829 and you will instantly be added to the subscription list for SMS alerts.
It is notable that the VIP Program on Resorts Online Casino New Jersey heavily favors slot players over those who play any other game. For instance, a silver tier VIP player will receive 0.04% cashback while a blackjack player will receive only 0.01% cashback. This gap is much larger than it usually is in other online casinos.
Deposit Options at Resorts Online Casino New Jersey
There is certainly no shortage of deposit options available here since you can use VIP Preferred ACH E-check, PayPal, Resorts Card, PayNearMe, MasterCard, Visa Card, online bank transfer or cash at the Resorts casino cage. If it is your first time depositing to the Resorts casino cage (which is located at 1133 Boardwalk Avenue in Atlantic City), then you will need to bring a photo ID, a bank statement from an account that you used to make a deposit to your account with in the past, and your Resorts Online Casino New Jersey account info.
Every one of these banking options will deposit money into your Resorts Online Casino New Jersey account instantly except for the PayNearMe and cash at casino cage options that require you to travel to any 7-11 convenience store or to the Resorts Casino in Atlantic City, respectively. It is important to remember that you will need to deposit money using the same payment method that you plan on withdrawing money with in order to avoid any hassles.
If you are depositing using a Visa Card or MasterCard then your maximum deposit limit will be a very reasonable $1,000 per transaction. You will also be limited to $3,000 worth of deposits per every 24 hour period even if your card limits are set higher than that. In stark contrast, the PayNearMe deposit method will only allow you to deposit $499 per day and up to $10,000 per month so high-rollers will want to avoid using it.
Withdrawal Options at Resorts Online Casino New Jersey
You will be able to withdraw your funds from Resorts Casino using ACH E-check, PayPal, Resorts Card, check by mail or cash at the Resorts casino cage. This list is noticeably shorter than the list of deposit options but that is simply because some of those options do not facilitate withdrawals. However, just because the list is short doesn't mean it isn't full of safe and speedy options for you to take advantage of.
The withdrawal turnaround time when using the Resorts Card will be 5-7 business days for your first transaction and then 5 business days for every transaction after that. This card also allows you to withdraw funds at any ATM on the PULSE or NYCE network as well as make purchases anywhere that Discover cards are accepted.
The withdrawal turnaround time for a check by mail will take around two weeks which makes it a last resort option in our opinion. All of the other withdrawal methods will process your transaction in under four days, which is certainly nothing to complain about.
Click Here for Our TOP 2023 USA Online Slots Site!