Betfair's online casino that is only available for gamblers who are located in the state of New Jersey launched back in 2013 thanks to their partnership with the Golden Nugget Casino in Atlantic City. However, Betfair has been a reputable gaming brand in the United Kingdom since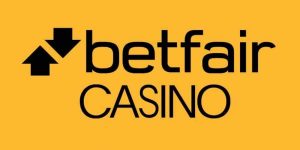 it was founded in the year 2000 and they are currently just one division of the gaming juggernaut known as Paddy Power Betfair. To say that this company has every reason to offer a reliable and safe product would not be an outlandish statement since they have proven their high level of integrity for over two decades.
When this legal online casino opened for business they had a total of 50 games in their game library and this number has since increased by more than 500% which is quite impressive. Join us throughout the following review to see if this online casino has been putting just as much effort into improving other aspects of their operation so that you will know if this online casino is preferable for you.
Volume of Slots at Betfair Online Casino New Jersey
There are 236 slot games in the game library of this rapidly growing online casino which is enough to keep up with their competition in the New Jersey market. The slot game library is split up into new games (200 newest titles listed), jackpot games (13 titles listed) Betfair exclusive games (18 titles listed), 1-10 line slot games (16 titles listed), 15-20 line slot games (29 titles listed), and 25+ line slot games (191 titles listed).
Mobile Betfair Online Casino New Jersey Slots
Whether you are using an iOS device or an Android device, Betfair has an app available for you to download so that you can get in on the action while on the move. By visiting their website at m.Betfaircasino.com and clicking on the yellow "Download" button at the top of the screen you will then have access to the app anytime and anywhere you wish.
You will be able to play around 120 slot games in Betfair Online Casino's regular game library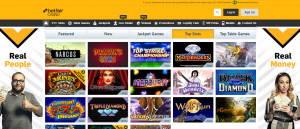 from your mobile device but you will only be able to access seven of the games listed under the "table games" section. Of these seven "table games", five of them are actually video poker games while one is a roulette game and one is a blackjack game.
One of the most shocking aspects of this mobile game library is the fact that there are nine different live dealer games available. Many online casinos do not offer any live dealer games at all on their mobile app, and even if they do it is only a handful at most. These live dealer mobile games include five tables of American blackjack, one table of unlimited blackjack, one table of baccarat, one table of roulette, and one table of hold'em.
Other Games at Betfair Online Casino New Jersey
Table Games
For whatever reason, the table games section has all of the table games and video poker games mixed together, but it is not that big of a deal since they label what genre each game belongs to in the lower left-hand corner of each game icon. Nevertheless, there are 19 table games listed in this section of the game library that are not live dealer games which means this is the 2nd largest game type in the entire casino.
Most of the table games that you will find here are variations of roulette or blackjack but you will also find let it ride, hi-lo solitaire, EZ baccarat, casino hold'em poker, and classic baccarat. The four table games that are exclusive to Betfair only are roulette royale, pro blackjack, EZ baccarat, and hi-lo solitaire.
Live Dealer Games
One of the newest additions to Betfair Online Casino New Jersey is the live dealer section of their library that is comprised of an astounding 12 live dealer games and one live dealer lobby. There is also a graphic that says more games are coming soon which will make their already above-average selection even more spectacular.
The minimum bet limits on these live dealer games range anywhere from $1 to $25 and the maximum bet limits range anywhere from $250 to $2,000. Eight of the 13 live dealer options are available 24 hours a day while the other five games are available for 13-20 hours per day. This is incredible since it means that they have at least eight highly-trained dealers on call at all hours of the day no matter what.
Video Poker Games
There are eight different video poker games in the game library of Betfair Online Casino New Jersey which is a small number compared to most of their competition. Nonetheless, it is better than not having any video poker at all and some of the titles you will find here are jacks or better, bonus poker, double bonus poker, double double bonus poker, five-play draw poker multi-hand, deuces wild, and poker bet.
Seven out of the eight video poker games available at Betfair Online Casino New Jersey were provided by software juggernaut company Game King who is no stranger to the online or land-based casino scene in New Jersey. The eighth video poker game named poker bet is a Betfair exclusive game that you will only find here.
Virtual Games
These computer-generated casino games are a lot like betting on sports except that you are wagering on the outcome of a simulated game or event where the computer is battling against itself. Every couple of minutes that passes is another missed chance to bet on a virtual game that is about to start on Betfair Online Casino New Jersey.
Some of the available virtual game titles that are available here include virtual horse racing, virtual greyhound racing, virtual stock car racing, virtual motor racing, virtual motorcycle racing, and virtual soccer. All you have to do in these virtual games is pick who you think will win the competition and then you can just sit back and enjoy the show while rooting for your competitor or team.
Welcome Bonus at Betfair Online Casino New Jersey
After you have created a new account you can then deposit funds and start gambling to take advantage of the $200 Risk-Free First Day Welcome Bonus. This bonus is self-explanatory since it will guarantee you up to $200 back on any losses that you take during your first day of playing on the site. This welcome bonus took effect on December 29th, 2019 and will go until December 31st of the year 2020. You will not be able to withdraw the cashback that you receive from this promotion but you will be able to withdraw any funds that you win from gambling with that

cashback.
The playthrough requirement for the bonuses on Betfair New Jersey will vary depending on which games you are playing and you will not be able to withdraw any funds until you complete these requirements. If you are playing slot games you will need to wager 20 times the amount of the bonus you received while roulette games will require you to wager 40 times the amount of the bonus. If you are playing any other game that is not a slot game or a roulette game you will need to wager 200 times the amount of your bonus funds before you can make a withdrawal.
Other Bonuses at Betfair Online Casino New Jersey
One of the easiest bonuses to qualify for on Betfair New Jersey is the refer-a-friend bonus that gives you the chance to earn $25 in casino credit just for inviting your friends to play. All you have to do is visit the promotions page and click on the "Start Referring Friends Today!" link and once they click on your email invitation, sign-up for a new account and make a deposit of at least $25 you will receive your $25 bonus. An extra perk that makes this bonus slightly more impressive than other friend referral promotions is that the friend who registers a new account using your email link will instantly receive a $10 bonus of their own.
The Game of the Week promotion rewards any player who wagers at least $250 on the specified game in a single day with a 5$ bonus. This is not that impressive of a bonus considering the large amount you need to risk but if it is a game that you already play often then you might as well claim the free money. You are eligible to claim this bonus once per day which means you can claim it up to seven times per week for a total of $35 in bonus funds each week.
The VIP Club of Betfair New Jersey has five different levels you can reach by earning tier points that are generated every time you make a wager in a casino game. You will also accrue bonus points at the same time that can be converted to real money at a rate of 5000 points per dollar to start but as you rise up the VIP Club levels the rate will improve all the way to 1000 points per dollar at the top VIP Platinum level. Some of the other perks that Platinum members will receive are VIP bonuses, VIP event invitations, VIP gifts, and a personal VIP host.
The rate that you will earn bonus poker points is the same as the rate you earn tier points and this rate is directly related to which game you are playing. Every dollar you wager on a slot game will earn you 5 tier points and 5 bonus points, every dollar you wager on blackjack will earn you one of each point and every other game not yet mentioned will reward you with 3 bonus points for every dollar you wager.
Deposit Options at Betfair Online Casino New Jersey
Looking to get in on all of the insane gambling action that is happening on Betfair Online Casino New Jersey? If so, the nine different ways that you can deposit your money are by Visa Card, Mastercard, PayPal, ACH e-check, PayNearMe, Betfair prepaid card, wire transfer, online transfer or cash at the Golden Nugget casino cage.
Each one of these deposit options also comes with a $10 minimum limit and any deposit fees will be waived for wire transfers over $100. If you qualify for a Betfair prepaid card you will start at a $2,000 daily deposit limit, a $4,500 weekly deposit limit and a $10,000 monthly deposit limit with VIP limits being 5-7 times higher in each category.
No matter which deposit method you choose, every transaction can be completed almost instantly from the comfort of your own home except for the casino cage option which requires you to drive to the Golden Nugget Casino in Atlantic City and then walk to the cashier cage. This casino is located at Huron & Brigantine Blvd., Atlantic City, NJ 08401 and the cashier cage is open 24 hours a day.
Withdrawal Options at Betfair Online Casino New Jersey
The withdrawal options that you have to choose from here include the Betfair Casino prepaid card, PayPal, ACH eCheck, cash at the Golden Nugget casino cage, or check by mail. This is about an average number of withdrawal options for a New Jersey online casino and the one that we recommend the most is the cash at casino cage option due to its superior processing speeds and withdrawal limits.
Speaking of processing speeds, the slowest option that you could possibly choose is the check by mail option which will take around five days to process. We recommend avoiding this option since all cash at casino cage withdrawals will be processed within two days and all other withdrawal options will be processed within three days.
If you have a Betfair prepaid card then you will be able to put up to $25,000 on it and if you are a VIP player you will have a $100,000 limit. This card can then be used anywhere that Discover cards are accepted and you can also withdraw your funds at ATMs that are on the PULSE or NYCE networks.
Click Here for Our TOP 2023 USA Online Slots Site!