Las Vegas is by far the largest casino market in the United States. It has more casinos than any other city. There are 30 casinos on the Las Vegas Strip, 12 downtown around the Fremont Street Experience, and dozens more in the locals market.
The slot payback varies from one market to another. There are several reasons for this.
How Las Vegas Slot payback is determined
The Nevada Gaming Commission releases monthly statistics on slot paybacks. The Las Vegas Strip usually has the lowest, which means those casinos win more of a bet on average than other markets in the state, like downturn Las Vegas, Boulder Strip, Reno, and Carson City.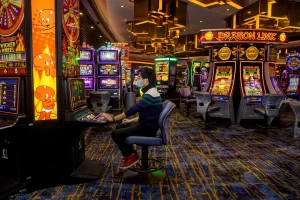 Penny slots tend to return the least to players. This means those slots hold the most for the house. If penny slots returned 90% to players, the house won 10% of the bets. If it returned 92%, casinos averaged a win of 8%. The payback gets higher as the denominations go up. However, that only tells part of the story.
Why do penny slots hold the most in Nevada?
There are several reasons why penny slots hold the most. Progressive jackpots and some bonus rounds require a maximum bet. This requires far more than pennies to trigger. A maximum bet can be $2, $3, and $5, or more. Most players only gamble a few pennies per line. This lowers the return on the game for those low rollers.
Another issue is that most penny slots are in a video format. These machines tend to return less than old-fashioned reels.
Video poker and electronic table games are lumped into slot revenue and paybacks in Nevada and most other jurisdictions. These games usually come in something other than the penny denomination. When these games are in penny denominations, it is usually part of a multi-denomination machine. Those games are reported on a different line. The denomination reporting is only done when there is only one game on a device.
Video poker and electronic table games return more than slots
Slot machines usually return 88 to 92 percent. Higher denominations may pay back up to 95 percent. Even the worst video poker pay tables typically return more than that with perfect play and five coins wagered. Electronic table games usually do, too, with the exception of big wheel and some roulette ones.
Video poker games often have $0.25, $1, and $5 standalone denominations, especially when a networked progressive exists. These denominations tend to have higher paybacks in Nevada gaming revenue reports than pennies and nickels. It is not because the slots at those denominations have a higher return. It is because there is video poker and electronic table game coin-in averaged with it.
El Cortez and Rampart often advertise that their slots have a higher return than the average in their reported markets. This does not necessarily mean that the slots are looser. It likely means that each has more video poker action than average. El Cortez has about 100 quarter and dollar video poker machines that operate on coins that only have one denomination, which inflates their quarter and dollar paybacks.
How Las Vegas slot payouts differ between the Strip and other parts of the market
The Strip wins more than downtown Las Vegas and the locals market. This is mainly due to its higher volume of gamblers. The slots are also tighter on the Las Vegas Strip.
Here are the slot holds by denomination in different parts of the Las Vegas market. These are for 2022, the last full year reported by the Nevada Gaming Control Board. The amount listed is the percentage of the amount wagered, known as coin-in, the casino kept. To get the player's return, subtract that number from 100.
Note that at lower denominations, the Strip casinos hold a much higher percentage of the action. As denominations increase, the Strip becomes a better value.
The Nevada Gaming Control Board considered The Strat to be downtown, even though it is on Las Vegas Blvd. That is because it is in the Las Vegas city limits. Some locals markets do not have high denominations machines, or at least not enough to be reported. That is why some segments have shorter stat reports.
Las Vegas Strip 2022 holds
Penny: 11.4%
Nickel: 7.72%
Quarter: 11.04%
Dollar: 7.45%
Five-dollar: 5.53%
Twenty-five dollar: 5.93%
Hundred dollar: 6.34%
Downtown Las Vegas 2022 slot holds
Penny: 11.02%
Nickel: 6.46%
Quarter: 6.75%
Dollar: 6.8%
Five-dollar: 7.36%
Twenty-five dollar: 6.94%
Hundred dollar: 7.06%
North Las Vegas
Penny: 9.45%
Nickel: 5.55%
Quarter: 5%
Dollar: 5.49%
Boulder Highway
Penny: 9.11%
Nickel: 4.94%
Quarter: 5.38%
Dollar: 5.23%
Five-dollar: 5.19%
Twenty-five dollar: 8.81%
Balance of Clark County
This section covers casinos not listed on the Strip, downtown, North Las Vegas, Boulder Highway, Mesquite, or Laughlin. It is mostly Henderson, Summerlin, and off-Strip casinos.
Penny: 9.5%
Nickel: 4.17%
Quarter: 5.14%
Dollar: 6.05%
Five-dollar: 6.82%
Twenty-five dollar: 8.43%
Click Here for Our TOP 2023 USA Online Slots Site!