IGT is one of the world's top slot game producers and it seems as though every title they release is well-received by players. Gypsy Moon is no exception to that and is a wildly popular game at both online and brick and mortar casinos. This particular game boasts an obscure theme that does not necessarily fall in line with "standard" slot themes, but is attractive nonetheless.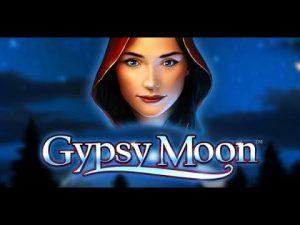 Like almost all IGT games, Gypsy Moon is available on the floors of most casinos as well as in the slot library of any reputable online casinos. The following few sections will discuss and elaborate upon everything there is to know about this game.
Volatility of Gypsy Moon
Gypsy Moon is, by most accounts, a higher volatility slot because it is extremely difficult to win large sums of money from the base game alone. For players, it should not be surprising to see your balance begin to dwindle after a while of playing, even if you achieve a decent amount of base game line hits. For more substantial wins, the goal should always be to unlock the free spins bonus.
With all of this being said, the SuperPlay Feature gives players a massive 243 ways to win on every spin. The SuperPlay symbol awards players for matching symbols in any position in adjacent columns, beginning from the left. If there is more than one SuperPlay symbol in the same column, the win will be multiplied.
Variations of Gypsy Moon
As far as variations of IGT's Gypsy Moon slot game are concerned, there aren't any. What you will find however, are a number of different slot games with "gypsy" in the title. For example, Konami offers a game titled "Gypsy Fire." Apart from games from other providers, the Gypsy Moon game you play on the floors of casinos will be identical to the one you are able to play at real money online casinos.
Symbols and Paytables in Gypsy Moon
Unlike other slot games where you can guess the types of symbols that will be used, Gypsy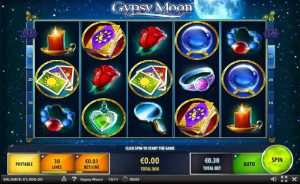 Moon boasts a theme where this might not be so simple. Most of the symbols are mystical in nature and feel more like they were taken from a withcraft-themed game than one centered around gypsies.
The game's symbols can be grouped into about four different categories, based on value. Those symbols will be elaborated upon further below:
Full Moon—The Full Moon is far and away the most valuable symbol in the game. It is worth 10x the next highest-paying symbol and line hits featuring even one of the Full Moon symbols will be significant, even if infrequent.
Golden Book/Crystal Ball—The Golden Book is worth slightly more than the Crystal Ball symbol, but both of these constitute the second highest-paying symbols in the game.
Green Heart/Tarot Cards—Because gypsies are often associated with fortune-telling, it makes sense that the Tarot Cards (along with the Crystal Ball) symbol is included. The Green Heart symbol appears to be a charm from a necklace.
Candle/Rose/Necklace/Mirror/Ring—This last grouping of symbols is not only the lowest-paying, but also the symbols you will encounter most frequently.
The other remaining symbols include the Wild, which is nothing more than the image of a young woman (perhaps the gypsy herself), and the Astro Sign, which is what you need in order to trigger the free spins bonus.
Gypsy Moon Slot Bonus
The main bonus you will be aiming for in Gypsy Moon is the free spins bonus, which is triggered by way of three, four, or five Astro Sign symbols appearing scattered across the reels beginning with the leftmost reel. If the free spin bonus is triggered, players are able to choose exactly how their particular bonus functions.
How Gypsy Moon Bonus Round Works
Players will be able to choose how many free spins they want, and the number of spins chosen will determine how much wins are multiplied by. Seven free spins will see a 5x multiplier, 10 free spins will award a 3x multiplier, 15 free spins will award a 2x multiplier, and 30 free spins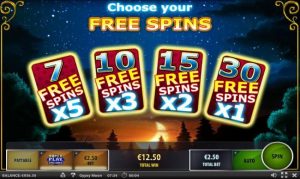 will award a 1x multiplier. These free spin quantities assume that only three Astro Sign symbols triggered the free spins bonus. If a player sees four or more Astro Sign symbols unlocking the free spins bonus, the number of free spins awarded will be increased.
With all of this being said, it is important to note that some games will see the number of spins altered slightly. We have seen games where the lowest number of spins available in the bonus round is five. Still, the multipliers will not change; the highest will always be five and the lowest will always be one.
Gypsy Moon Bonus Round Retrigger
The Gypsy Moon free spins bonus round can be retriggered in the same exact way it was triggered in the first place. The maximum number of spins that can be awarded is 500.
Play Gypsy Moon Slots Online
Like most modern IGT games, Gypsy Moon is available on the floors of most casinos as well as at most reputable online slot casinos. Luckily, the online and in-person versions of the game are more or less identical, down to the sounds and symbols. The only real difference you might encounter has to do with the number of free spins awarded during the bonus. We described the bare minimum number of spins in this review, so if you are surprised by a differing number of free spins, it will be a pleasant surprise as the quantity of free spins will surely be larger than what we outlined here.
Click Here for Our TOP 2023 USA Online Slots Site!