Notice: This page is not endorsed nor affiliated in any way with Aristocrat Technologies Australia Pty Ltd. and is our own opinion only.
50 Lions is one of Australian slot maker Aristocrat's most iconic games. It first made an appearance on the floor of brick and mortar casinos in the early 2000s. Though the game has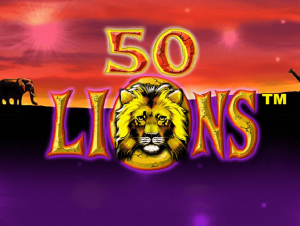 undergone only slight gameplay and aesthetic upgrades in its nearly 20-year existence, it remains a cult favorite and is readily available both online (free play only) and on the floors of physical casinos.
What makes 50 Lions so popular amongst gamblers is the fact that it caters to everyone. The game can be found in high limit rooms as well as in the long rows of slots you will find scattered across your typical casino.
Volatility of 50 Lions Slots
As for the volatility of 50 Lions, you can expect it to be quite high. The free spin bonus round is what you should really be after, however it is not triggered with any amount of regularity. This means that if you are sitting down and expecting to trigger a bonus within a few dozen spins, you may be disappointed. In general, you will see more in the way of small line hits than anything else. Stacked Lion symbols are your key to sizeable wins during standard gameplay, otherwise you will be looking to land three Flower symbols on the first three consecutive reels in order to trigger the free spin bonus.
50 Lions is a fun game that offers players a chance to win big if the bonus round is triggered, but there is no guarantee that that will ever happen.
Variations of 50 Lions Slots
50 Lions Deluxe is the lone variation of this game that you will find. Overall, the Deluxe version looks and functions the same as its predecessor, however the graphics and sounds have been updated. For instance, if you stack a bunch of Lion symbols across multiple lines for a nice-sized win, a pride of Lions will come storming at you by way of a unique and interesting cutscene.
The most noteworthy difference between 50 Lions and 50 Lions Deluxe is what happens when the bonus feature is triggered. Though the free spins bonus is still triggered by three Flower symbols appearing on the first three consecutive reels, players are given a choice as to how the bonus round can be played. Players can choose to receive 13 free games with only one Wild symbol added, eight free games with two or three Wild symbols added, or five free games with four or seven Wild symbols added. For clarification, the Wild symbols that are added will be added to each of the free games available.
Symbols and Paytables in 50 Lions
There are four different categories of symbols that you will see during standard gameplay. As you might expect given this game's name, the Lion symbol is the highest-paying and best. Beyond that, the symbol you are really looking for is the Flower, as three of these on the first three reels triggers the bonus feature.
Lion—The Lion symbol is the highest-paying and one you will often find stacked across multiple reels.
Zebra/Giraffe—Th Zebra and Giraffe are the second-highest paying symbols.
Tribal People/Tree—The Tribal People and Tree symbols are slightly lower-paying symbols than the Zebra and Giraffe.
A/K/Q/J/10/9—The remaining symbols are what can be described as standard for a slot game and all pay similarly, with A being the most valuable of the bunch and 9 being the least. A picture of the full paytable can be found below: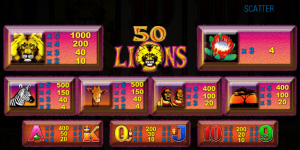 50 Lions Slot Bonuses
We have touched on it a few times now, but there is only one type of bonus offered by the 50 Lions (and 50 Lions Deluxe) game(s). The free spins bonus feature is triggered by the appearance of scattered Flower symbols on the first three reels. The standard 50 Lions game boasts a free spins bonus that consists of 10 total games. The feature can be retriggered by the appearance of three Flower symbols on the first three reels, just like how you initially trigger the feature.
The only difference you will notice as it relates to the bonus on 50 Lions is that which appears only on the newer 50 Lions Deluxe game. In this version, players are able to have some say over how their free spin bonus is structured. Players can choose to play 13, eight, or five free spins. The catch here is that the number of Wild (Diamond) symbols decreases as the number of free spins increases. In other words, the 13 free spin option will feature the fewest Diamond symbols, while the five free spin bonus will have the most.
How 50 Lions Bonus Round Works
The bonus round for 50 Lions only differs from standard gameplay slightly. The biggest difference is that, during the bonus round, an extra Diamond wild symbol is added to reels two, three, four, and five, for a total of four additional wilds. During the bonus round, you are looking to see as many Lion and Diamond symbols as possible. These will result in some of the largest bonus round wins and can see people walk away with hundreds of dollars off of spins smaller than $1.
50 Lions Bonus Round Retrigger
The free spins bonus can be retriggered by way of three Flower symbols appearing on reels one, two, and three, but the retrigger only awards five additional games and can happen only once.
Play 50 Lions Slot Online
As is standard of most Aristocrat slot games, 50 Lions can be found in abundance online but cannot be played with real money. Instead, you will find free play versions of the game. What we enjoy about this is that the free play online version of 50 Lions is nearly identical to the game you will find on the floors of brick and mortar casinos. From the sounds to the gameplay, the free version of 50 Lions online can give you a good feel for what to expect when playing the real thing.
Click Here for Our TOP 2023 USA Online Slots Site!